Sioux Center to Cherokee, 55 Miles
The first day started significantly earlier than I thought. The overwhelming sound of zippers proved too difficult to sleep through even tucked soundly under the feet of the sleeping bag. I needed to make sure that Logan had the tent and gear packed up and in the truck by 8 am each morning. One of the benefits of being a registered rider for the event is that they carry your gear in a truck. So you fit all of your camping needs in a duffle bag along with kibble and beef jerky treats and they will carry it to the next camping town where you pick it up and set up camp.
So 55 Miles for the first day seemed like a pretty good distance to go on our first day out. Both Logan and myself had done quite a bit of riding in the past but we haven't had too much time in traffic with the current set up so it was interesting getting used to navigating our way through the group. There were a lot of bikes on the road, it was all you could see in front of you and all you could see behind you. It was nice riding in the Trailer, I could watch the long rolling hills pass as we made our way our through the countryside.
The first Town we came to was a Dutch community. They had a variety of Danish dishes for breakfast but with all the miles left ahead, I urged Logan to continue. We made our way through the usually sleepy towns of northwestern Iowa to find that the communities overwhelmingly welcoming to the riders who found themselves in their town, getting a bite to eat and refueling from the ride. People sat in their front yards and sprayed water into the street to cool us off, I tried my best to look displeased but it sure did cool me off.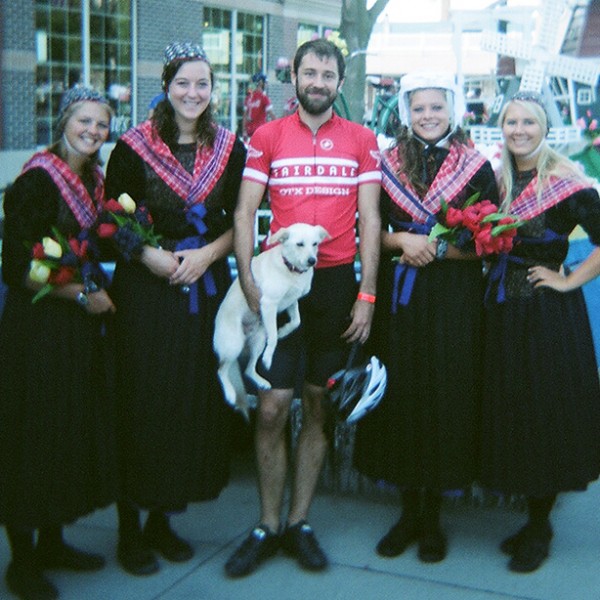 I overheard the human tell groups of people about where we were from and chit chat for a bit and I sure was excited about all the people talking to me. The ride was going well despite the sun that seemed to start to wear on you after a while.
We rolled down the long hill into Cherokee Iowa, a cool town that had the local high school grounds set up as a camping spot for RAGBRAI. There were already thousands of people setting up their camps or lounging in the shade after the ride. I somehow managed to lead us through the crowd to a shady tree spot where I could see what was going on pretty well. Sleep came pretty easy after a long day surfing in the trailer so I napped while camp was set up and then we went and walked around a bit to fill up water and such and socialize before heading to bed shortly after dark.