Cherokee to Lake View 63 Miles
Today started out early with the shuffling of tents and the soothing zipper alarm clock that would become the theme song for me getting tossed out of the tent while things are packed up and loaded onto the semi with everyone else's gear. Today's ride will end at a lake, I know I am excited and it seems like Logan is looking forward to a relaxing swim after today's 63 miles.
The first 30 miles went by with ease, Logan cruised through the cool morning air and I had a nice smooth cruise. The weight of our rig and myself seemed to pull us up the long hills but I never seemed to receive any thanks.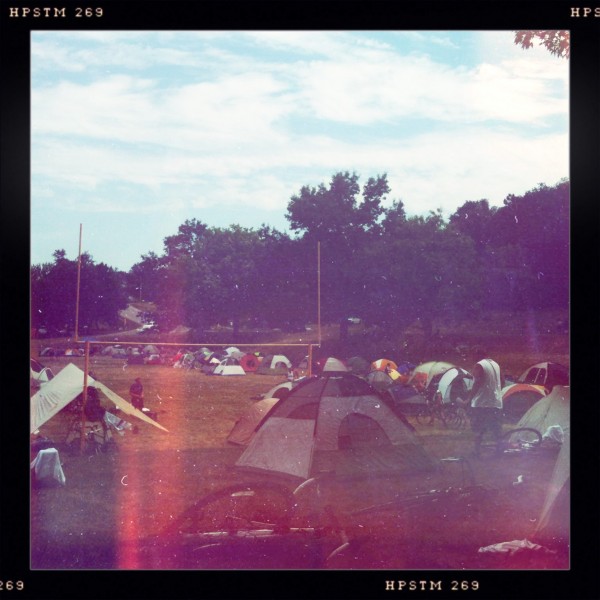 After reaching the meeting town of Schaller, we laid down for a bit of a rest before heading out on the long road once again. The route took us Due east out of Schaller for about 20 miles on a road that doesn't turn. I had a wonderful 20 mile an hour headwind that helped me stay cool for the boring ride. It seemed like Logan wasn't as fond of the wind, with no way to draft because of the trailer and an extra 55 pounds of trailer, dog and gear didn't seem to help either. Those silly aero handlebars and water bottle cages would have helped him out. I'll need to keep that in mind for future Fairdale Dog powered Tri bikes.
The blistering pace set by the piss poor riding conditions gave the humans some common ground to stand on. Conversations about past rides and previous experience with heat and shitty conditions seemed to bond the riders together and help motivate everyone. It was a great vibe.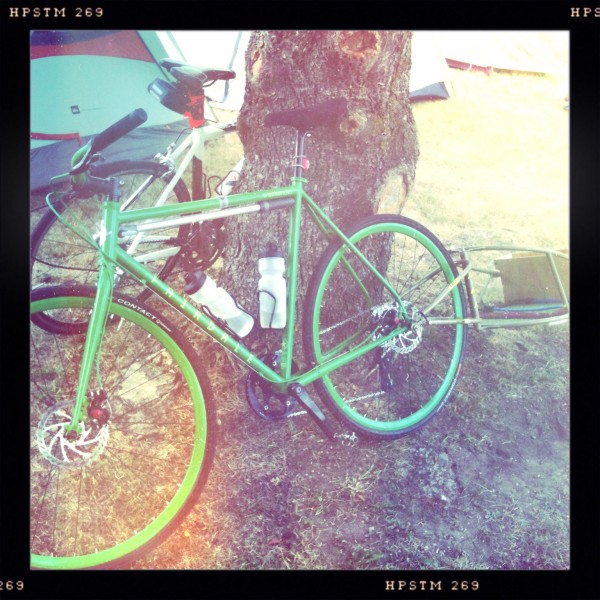 After a right turn and about 30 miles of that beautiful west central Iowa landscape we reached our destination of Lakeview. We bee lined for the water and made quite a few friends while making the mistake of plunging into the warm stale water. Logan didn't seem to budget for the $6.00 shower so the rest of his afternoon was spent looking for a place to rinse off. After finding a place to clean up we made camp and sleep came easy.