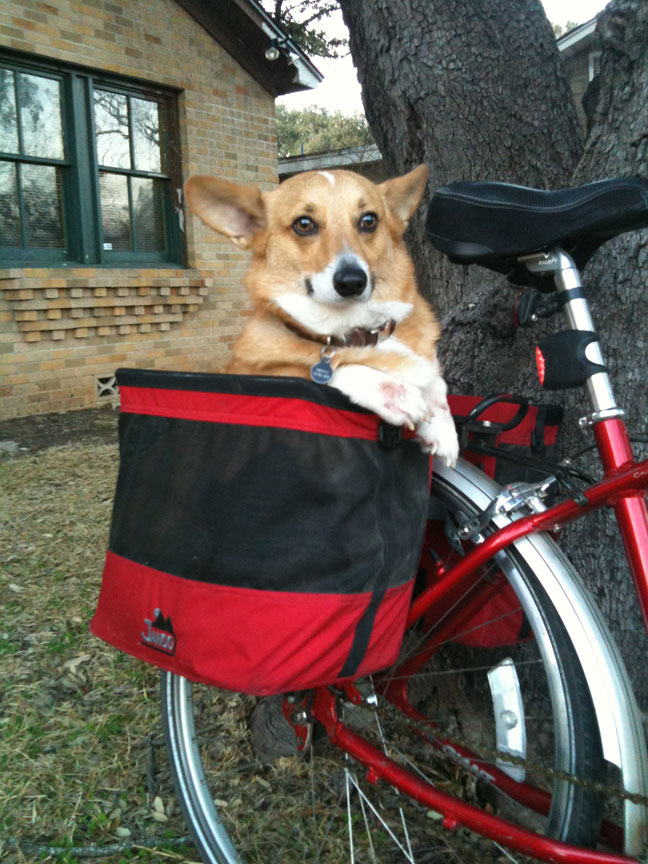 After Monty took a little dive out of the pannier bag the other day I decided I should get a big cargo basket for the front of my cruiser for dog carrying. Don't worry! Thankfully we were going slow and on a trail so he's fine but it scared me. He'll fit much better inside a big front mount basket and I'll be able to keep an eye on him.
In the process of getting my cruiser ready for the basket installation I started cleaning, then taking apart, then painting, then putting on completely different parts. In the end it reminded me that this old cruiser is really one of my most favorite bikes I own.
Although it looks old this cruiser really isn't that old. Its a Giant Simple and only cost something like $300 new at retail. The frame is actually aluminum so its really light and I guess I pretty much changed everything else.
ds
In the top of this photo you can see that it started out as a 26inch bike. With the simple modification of cutting the kick stand mount off I was able to fit 29inch wheels. I lucked out that a very comfortable gear ratio happened to fit the bike. I had the wrong sized spokes so I twist laced the front wheel to eat up some excess spoke length.Pretty sketchy but its been rolling true for like 4 years now.
I found that a Surly 26 inch fork that is suspension corrected is absolutely perfect as a non-suspension corrected 29er fork. For a long time I had a disc in the front, but there just ended up being a set of long pull calipers laying around the office and so I put them on. Looks a little more classic to me. On this new build I ditched the fenders and went for fatter tires including a big 2.35 x 29 in the front. Looks like a monster truck!
I can't wait til Fairdale can get our cruiser bike finished and out for sale. I am way stoked on getting around fast and efficiently on a bike (like on our Fairdale Parser), but there is something to be said for having a nice slow laid back cruise too!