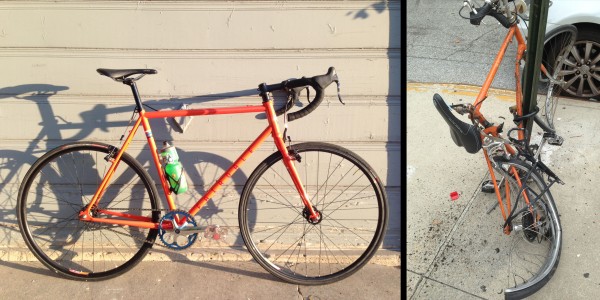 Getting a new bike is awesome! It's hard to resist smiling sitting on a brand new machine with everything working perfectly and smoothly. However, that perfection may be short lived. I always warn friends when they pick up a new bike that things will settle, stretch and seat into place after a couple weeks of riding. This shouldn't leave you feeling like you bought a crappy bike, it's just a natural part of the break in process. It's important to have a tune up after a little riding time. A handful of properly done minor adjustments will set your bike on the right track for a good long while. Resident mechanic Leif wrote a little bit on some things you should expect and keep an eye out for. Enjoy that new bike!! –Taj
You got your dream bike! You're riding it everyday and in a true rom-com like bliss, pedaling everywhere together, staying the night in your room… you truly love each other! BUT after a few weeks the spokes start to ping, chain goes slack, headset loosens, and brakes are-a-squealing. It seems like your bike may be saying something to you. Is it already time to breakup? No! You need a tuneup sandwich!
Take your bike to your favorite shop (the one you bought it at!) and get it dialed in. The initial break in miles you put on your new machine let all the parts get to know each other and therefore may be in need of some fine tuning. A critical time that lays the foundation for your very bike existence! Often shops offer a no charge or reduced charge going-over of bikes they sell to keep you and your bike happy.
These are some of the points of attention covered in a tune up, all stuff you may also want to learn to do yourself one day. Knowledge is power to help your everypedal!