Team rider Seth Celebrates the end of his season working for the Forest Service out of Glacier, Washington with a ride through some the Northwest's hardest hit wildfire areas. He sent in some great photos and report…
—
It was mid October and as I wrapped up my seasonal job I threw on the spandex and started pedaling right from work. I had no itinerary but a vague idea of where I would like to see and at a pace that I could actually take in the sights I was surrounded by.  I wanted to see some of the effects of the record-setting Washington wildfires.  I also wanted to see the expansiveness of the Colombia river basin outside of the shelter of an enclosed vehicle.  Besides the destinations I just wanted to pedal and open the my mind.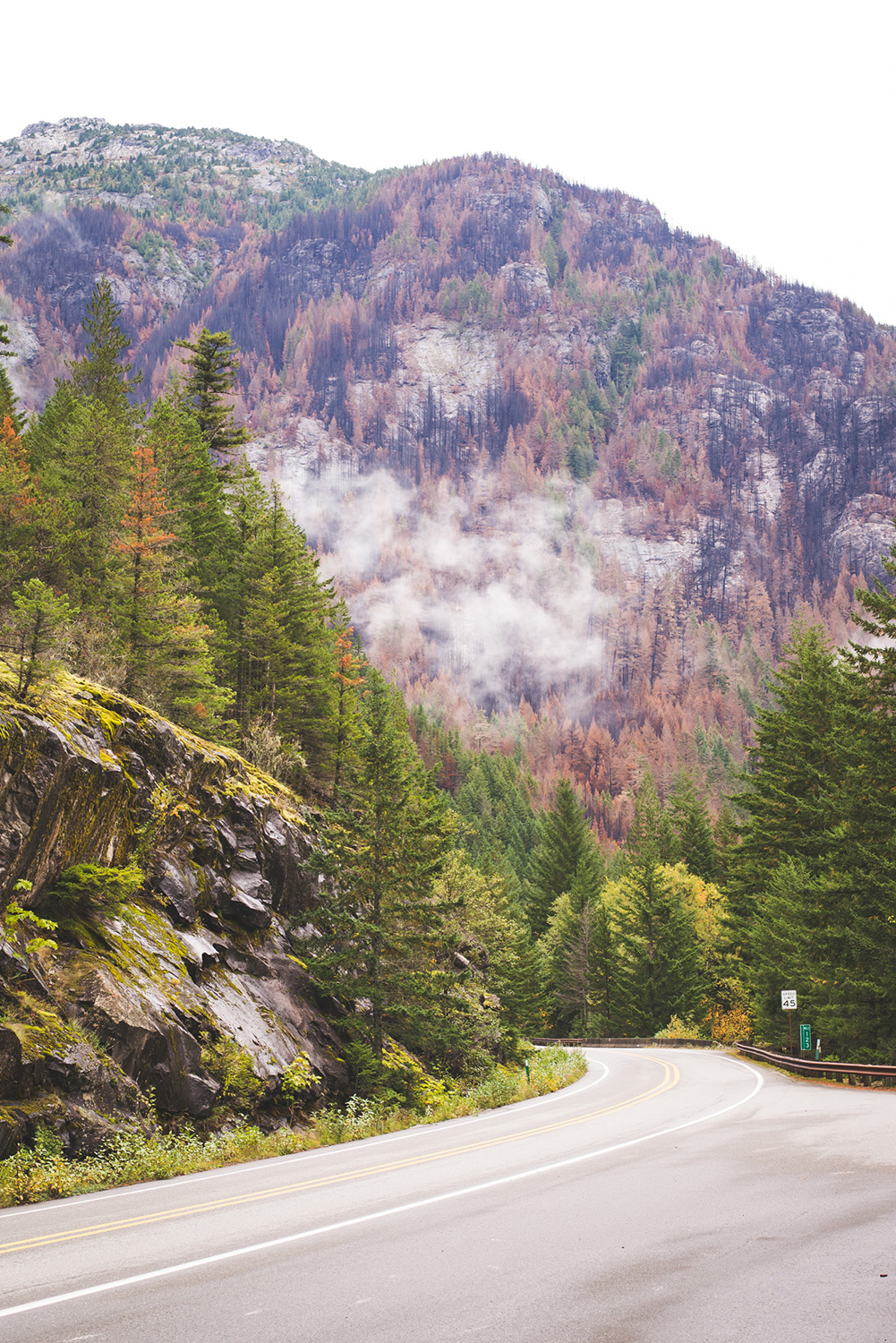 After waking up under a bridge along the North Cascades Highway I was now wetter than when I had escaped the rain of the night before.  The creeping fog had soaked through my sleeping bag leaving me wrestling for comfort for the entire night.  Today was my first full day of riding and I'd planned to cross Washington pass, a drier side where I could escape the rain.  I passed through the location of a major wildfire that had burned this summer and had to stop repeatedly to grasp what this must have looked like only months before.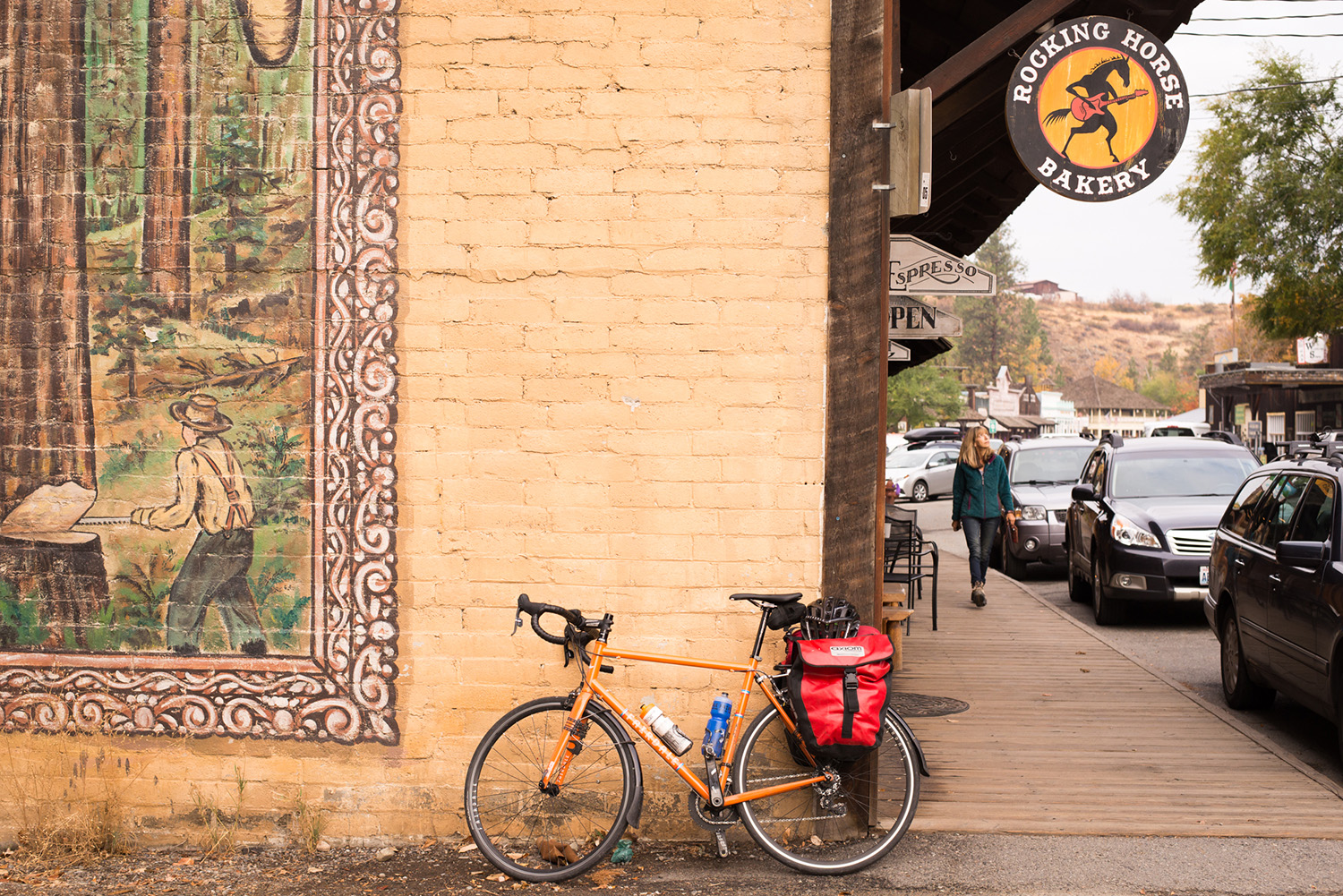 When pedaling all day coffee has become my drug of choice for waking the legs and the mind.  Guided by the caffeine I lucked into this community hub, where I had a stimulating conversation with a local forester about how he manages trees in the region.  Something I am lucky to take part in in my region back west.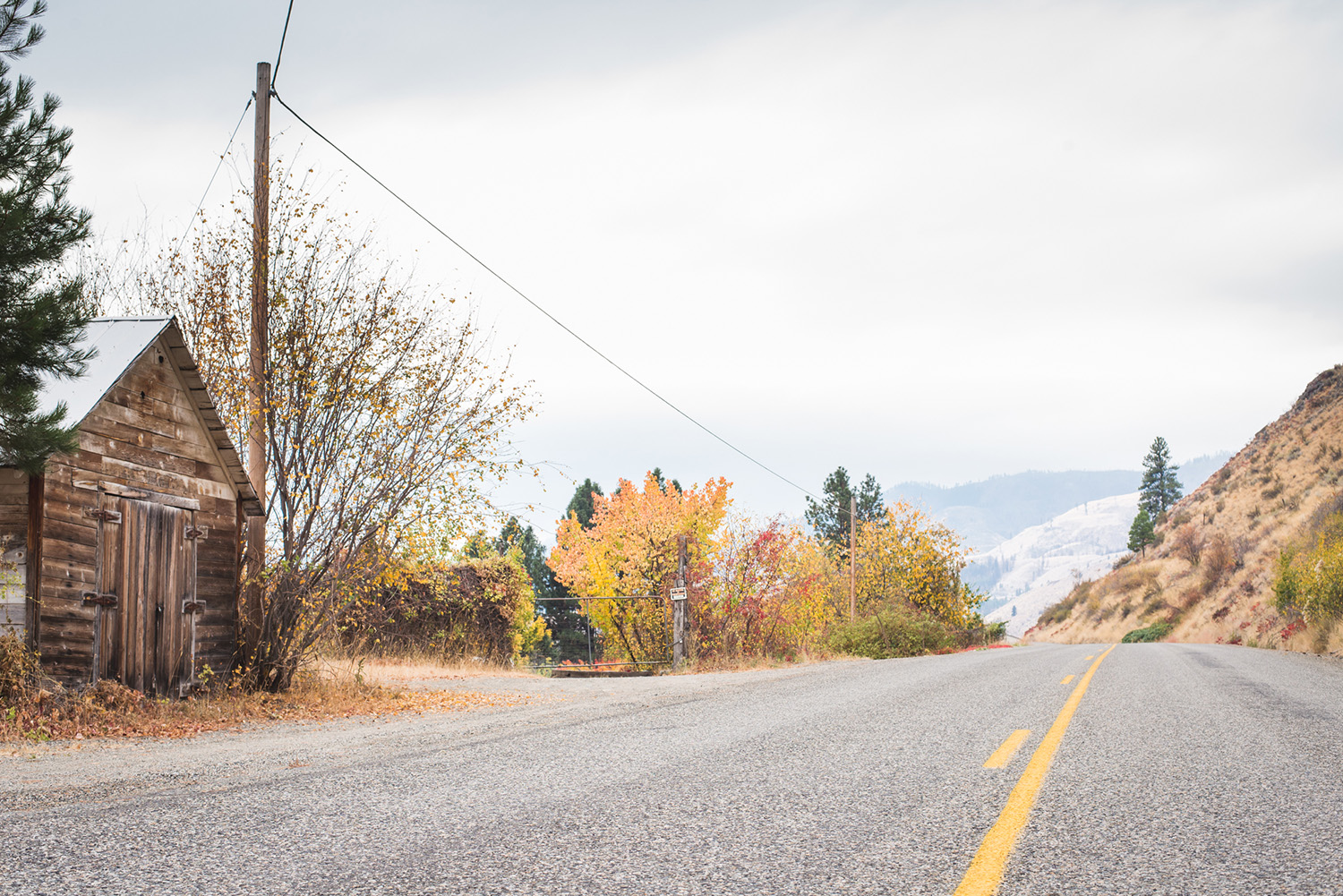 The Mechanics from Methow Cycle and Sport hooked me up with several backroads the took me off the main road heading south.  With many shots of espresso in me and these empty roads I was riding high.  The majority of this day was spent descending towards Lake Chelan.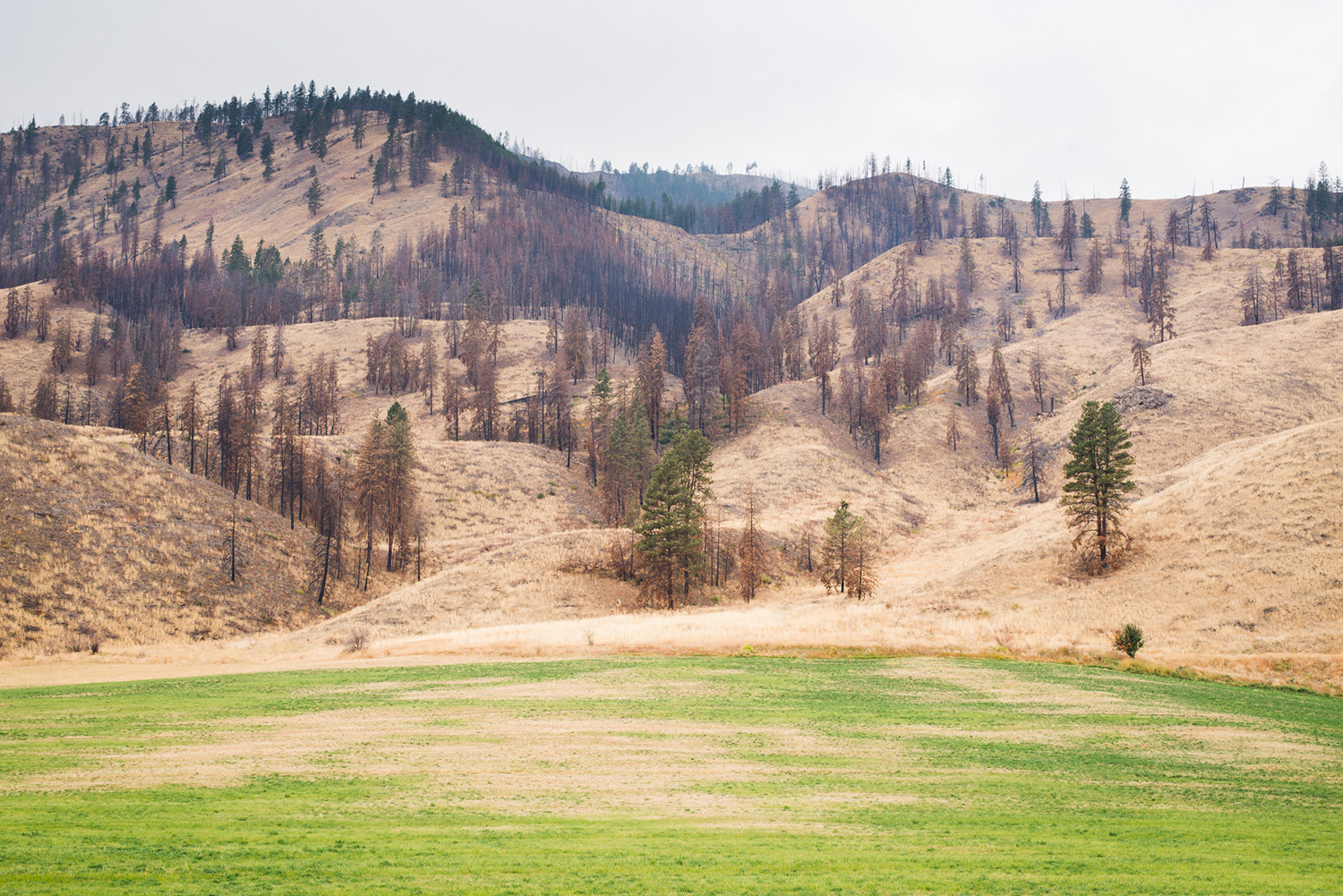 This burn in Carlton was over two years old.  Wildfire is a natural contributor to forest habitat renewal and vitality.  Most wildfires are caused by lightning as was this fire.  The challenge being we have moved into nature's path and in doing so many people have lost their homes from this fire.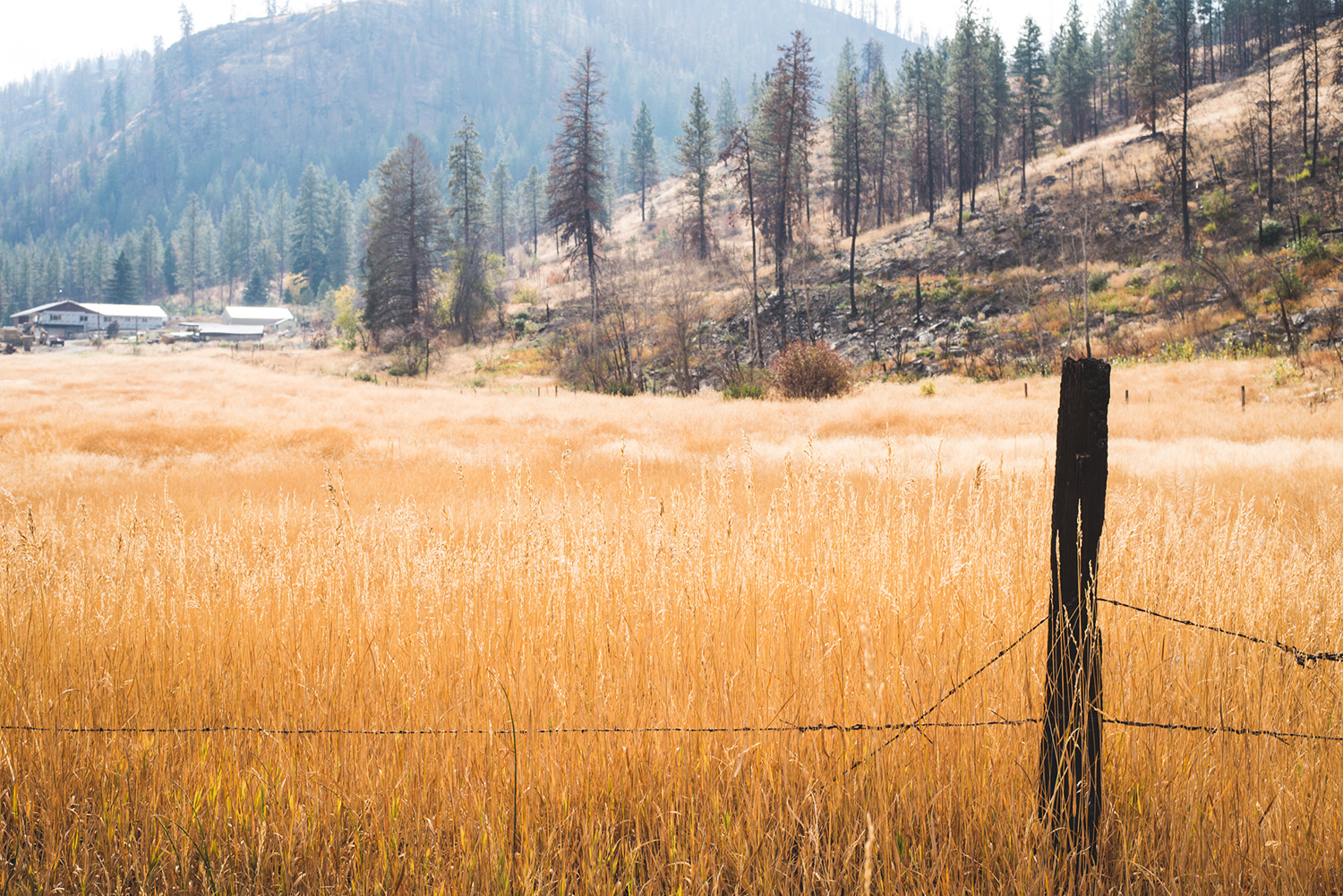 Fire had burned right up to the front yards of many farms in this region.  After evacuations some landowners stayed put watering their houses and creating ditches to evade fire.  They take their lives in their hands to save their home or farm.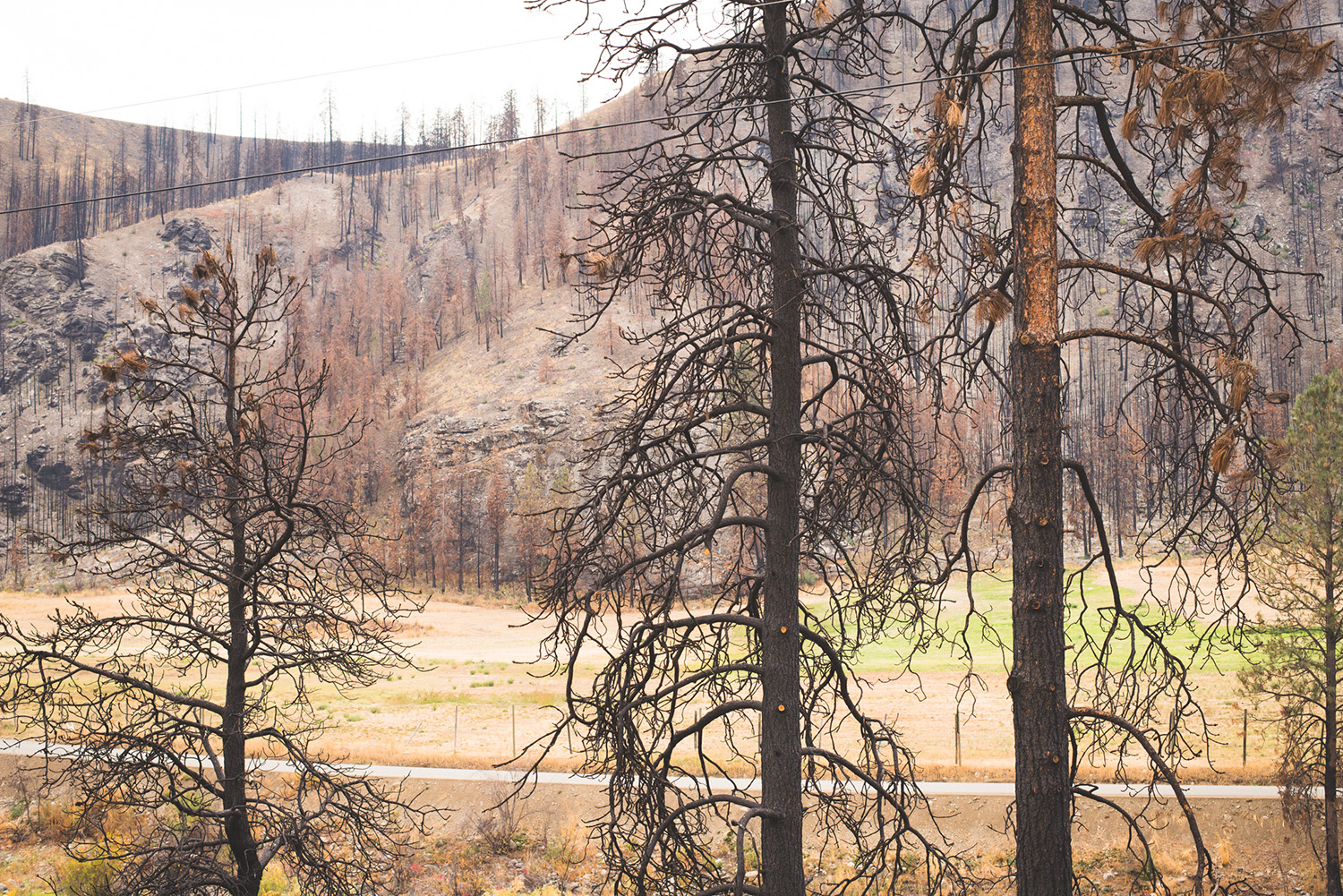 The Ponderosa pine is a naturally fire resistant tree species as it grows thick bark and has deep roots, it also sheds its lower limbs.  These factors increase its ability to withstand fire and decrease the possibility of a fire climbing to the crown.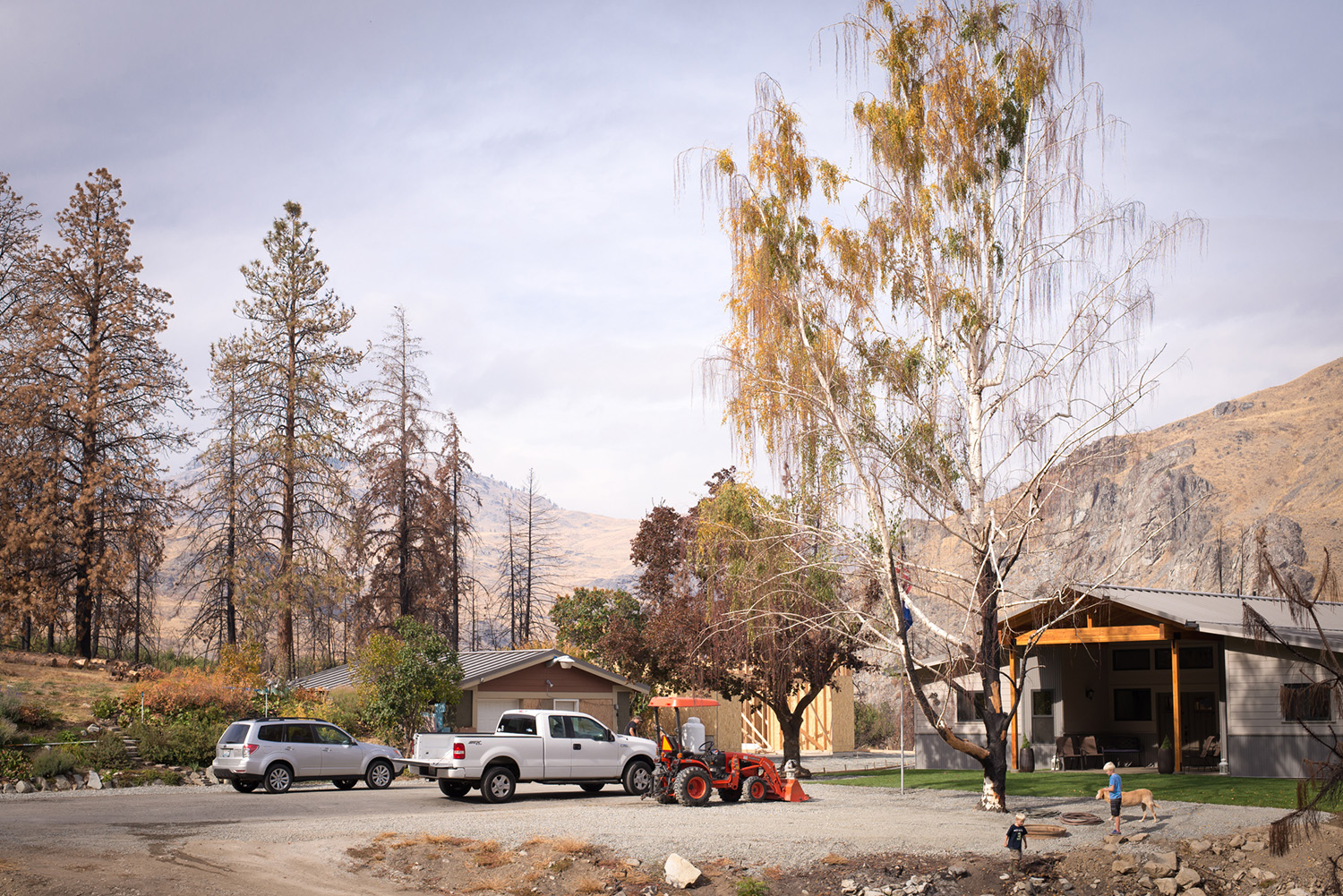 As I rode by this family playing outside their house with a burnt tree in the front yard I could only imagine the fight this landowner put up to save his dream home along the Methow River.  We exchanged waves and I rode on.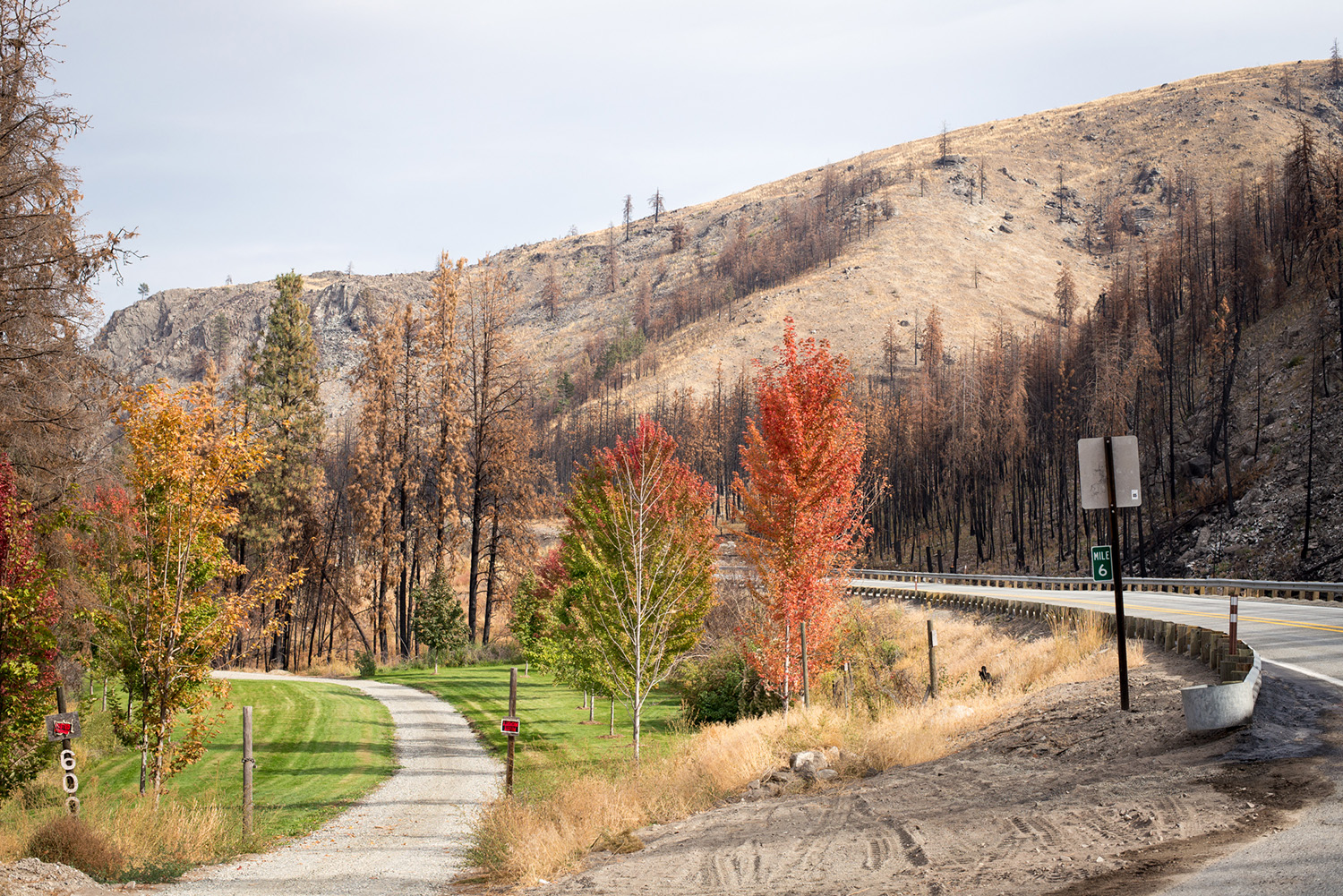 Next to the worst of the burn I found the best of fall colors.  The true resilience of nature plus the help of man shines in this setting.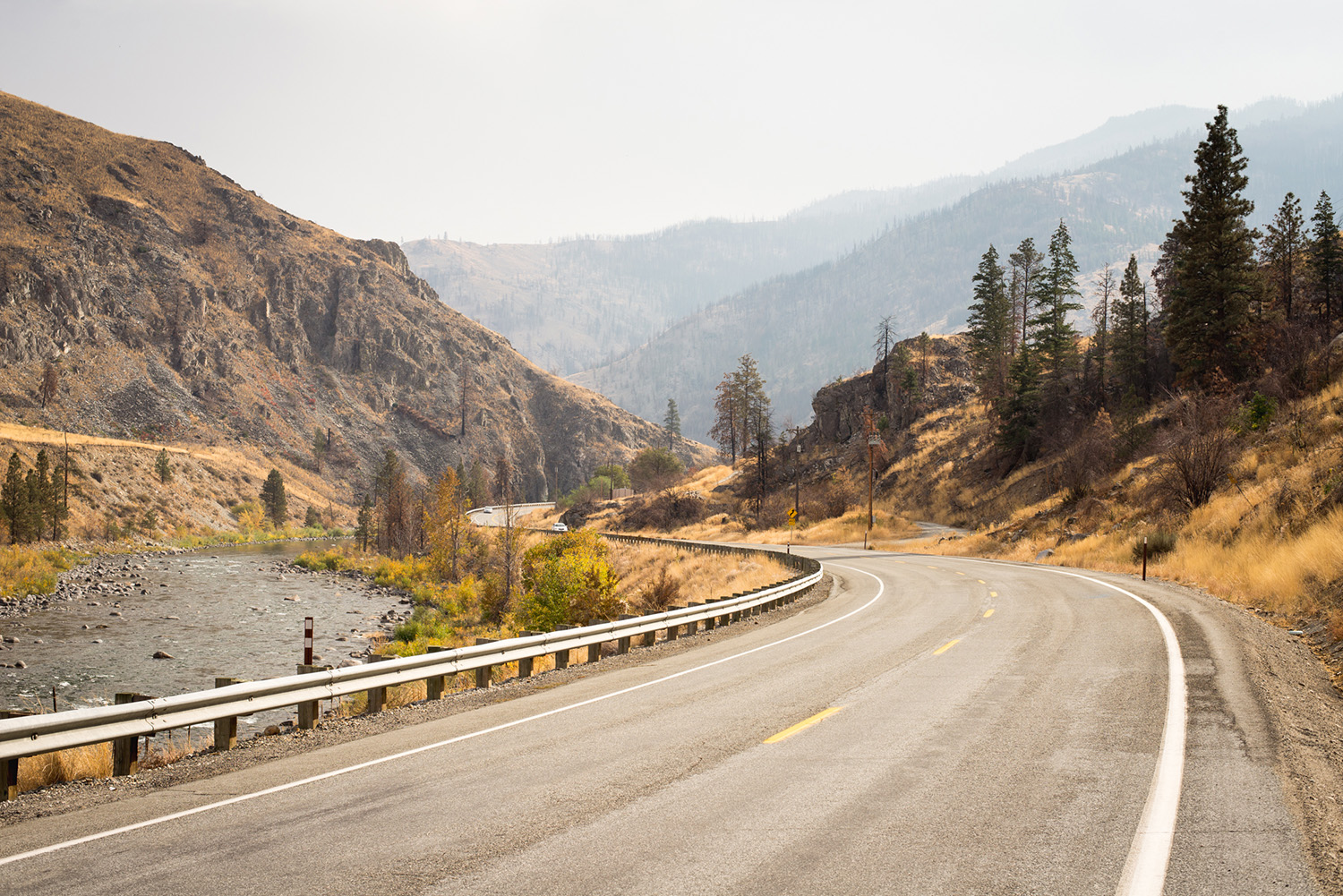 At this point in the day I had been descending for most of the day and in the back of my mind began to worry about the monster hill I would eventually hit to gain back all that elevation.  But nightfall came and I never reached said mountain.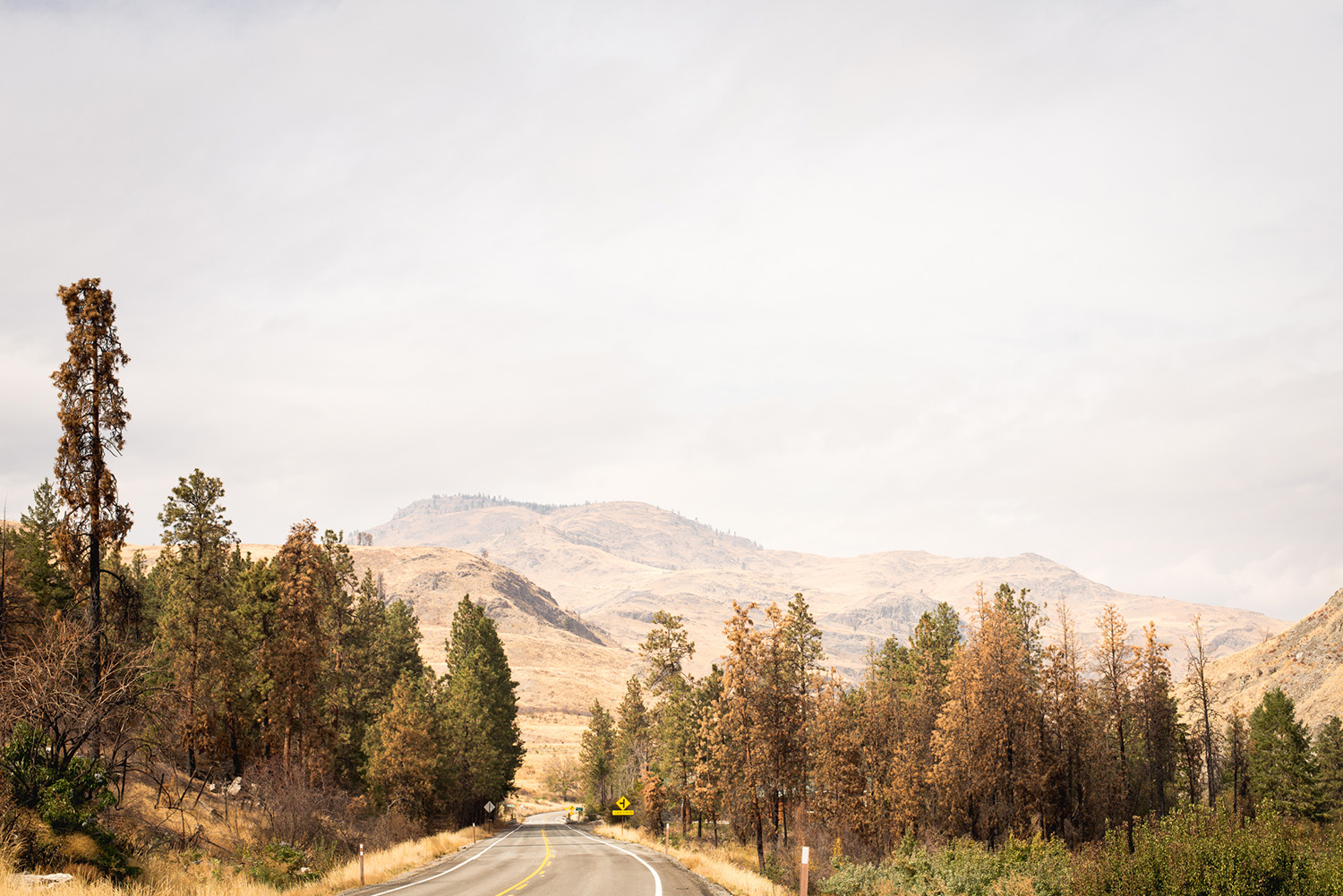 As I left the burnt forests of Carlton and Pateros and headed towards the Colombia river basin I was nervous about the oncoming major roads I would be riding, however turning around involved riding back towards angry black clouds.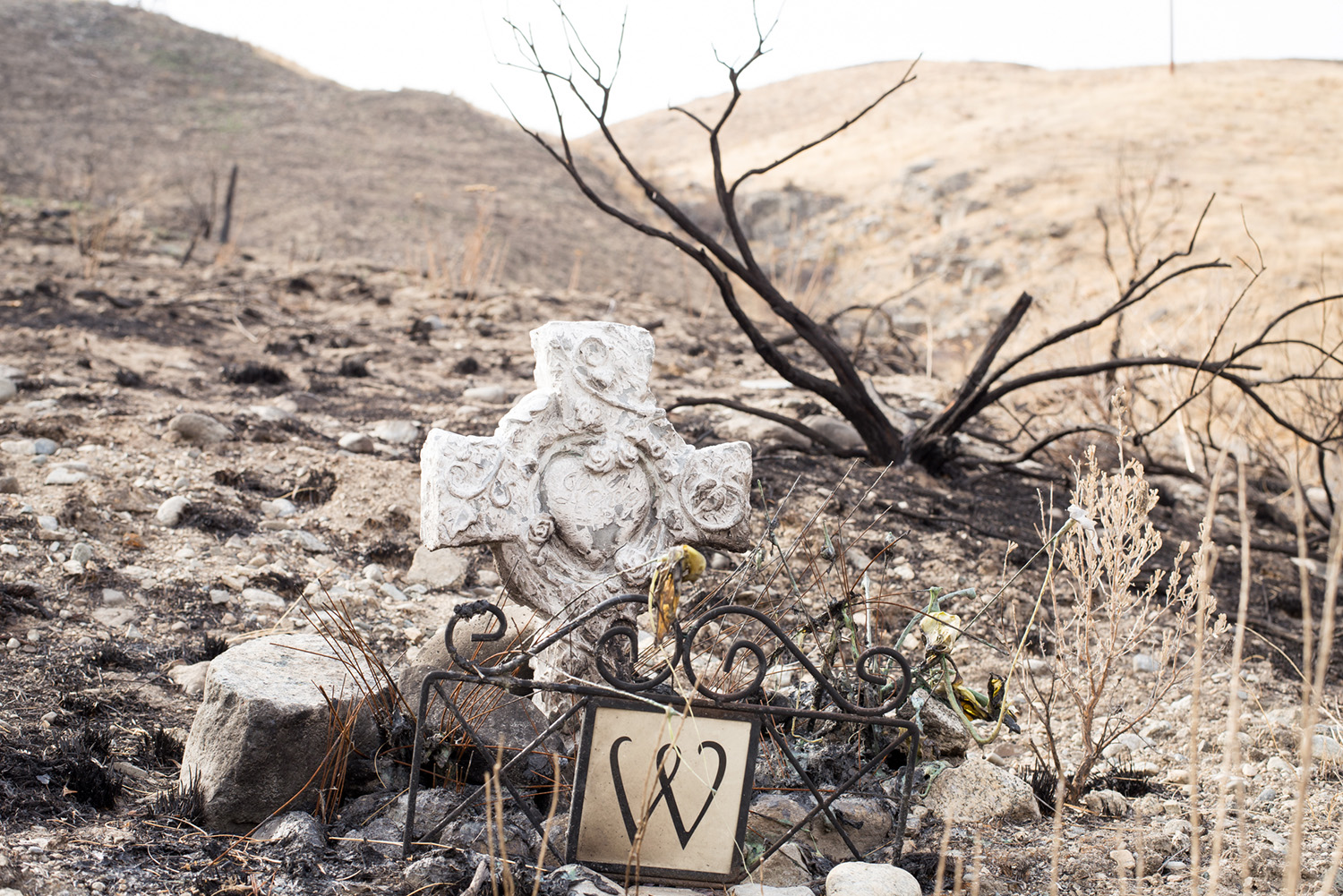 This roadside cross added to the desolation I felt as i pedaled this lonely highway.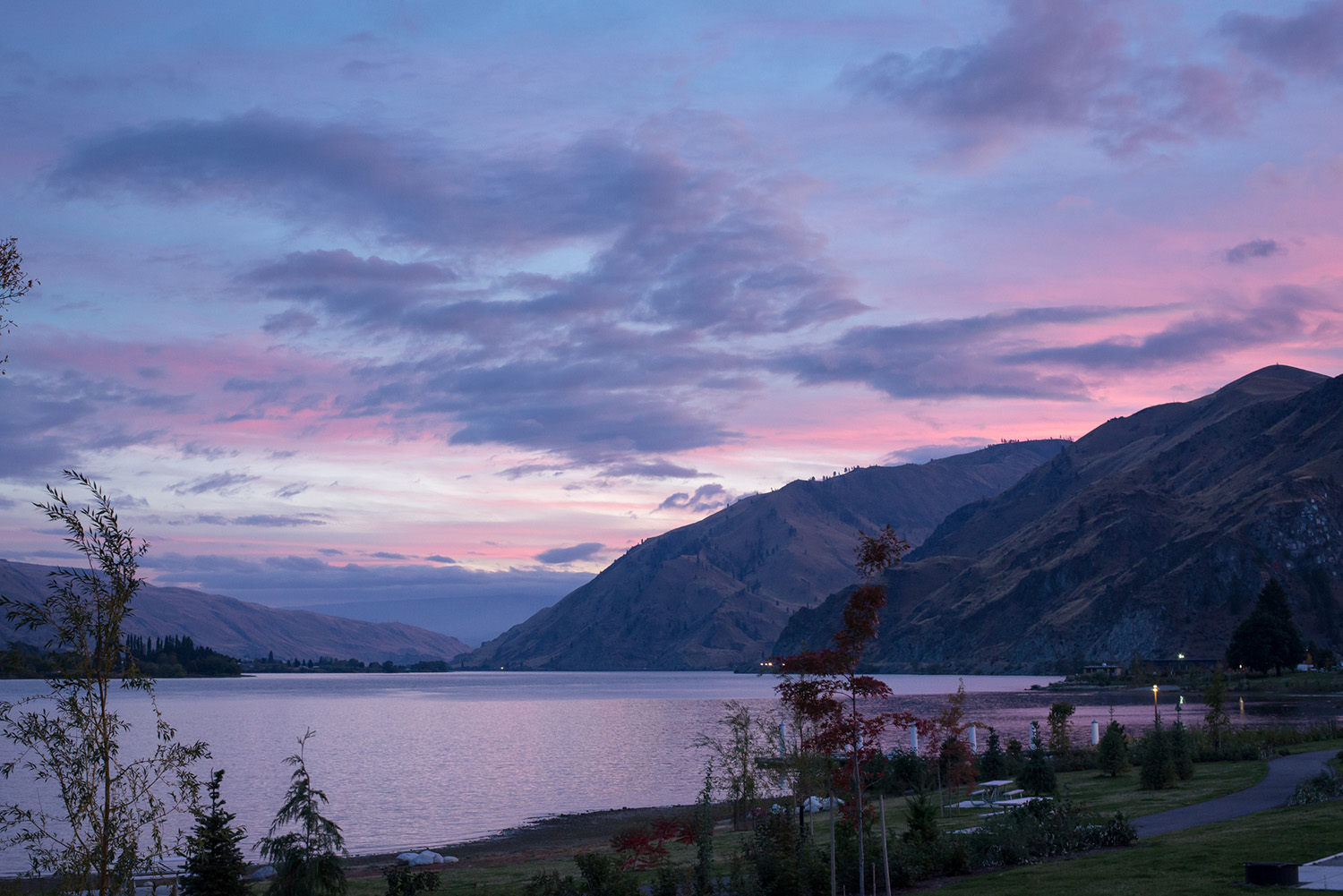 I found a nook on the shores of the Colombia river where I had a kitchen, light and even phone service.  I lived it up with some reggae and a warm meal.  The bugs and spiders rejoiced with company for the evening.  As the sun set over the ridge I thought about how nice it would be to see friends tomorrow in Leavenworth.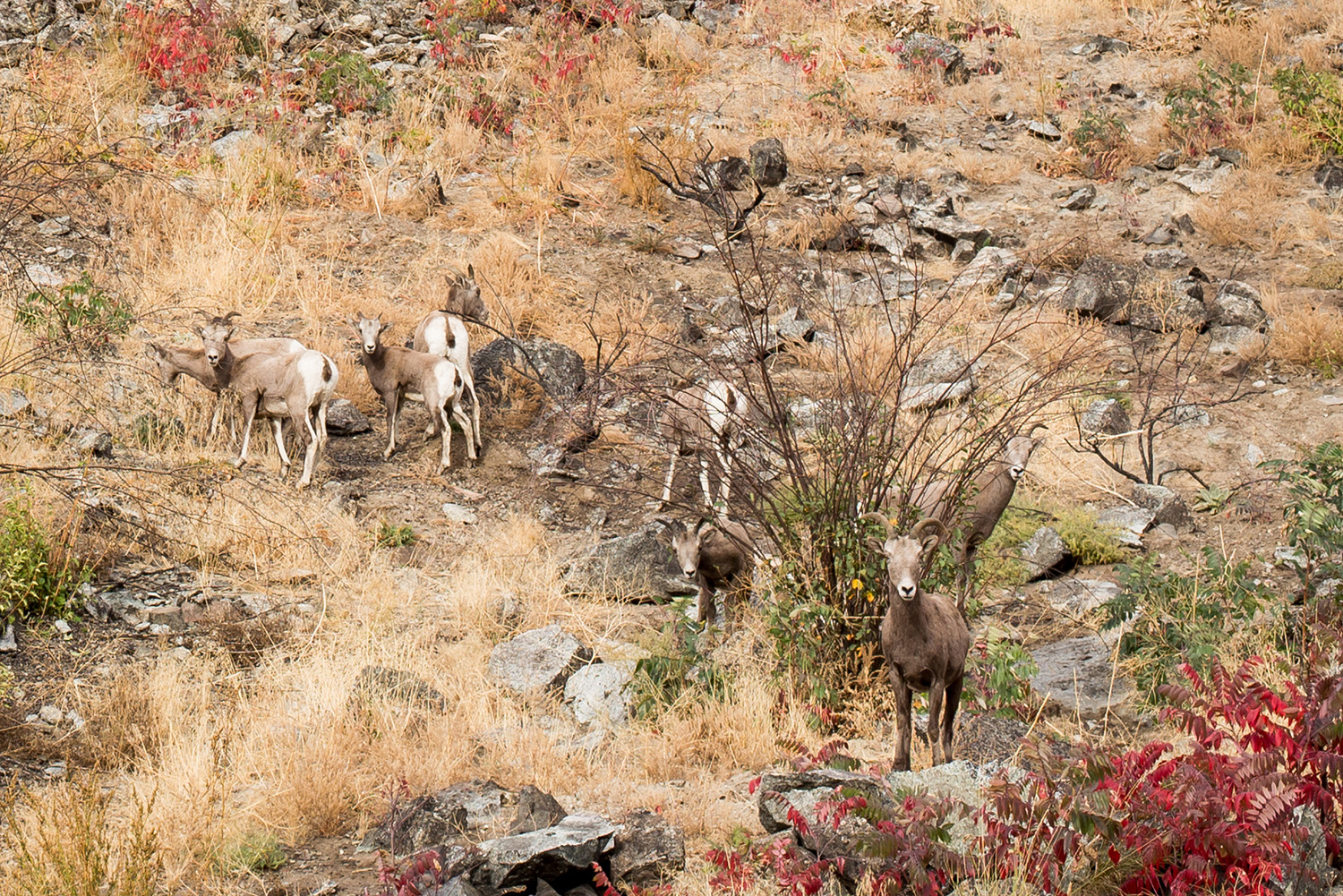 It was if the needle scratched when I rolled up on these Big Horned Sheep.  The dominant one wouldn't take its eyes off me.  I don't think they were too used to seeing grown men in spandex.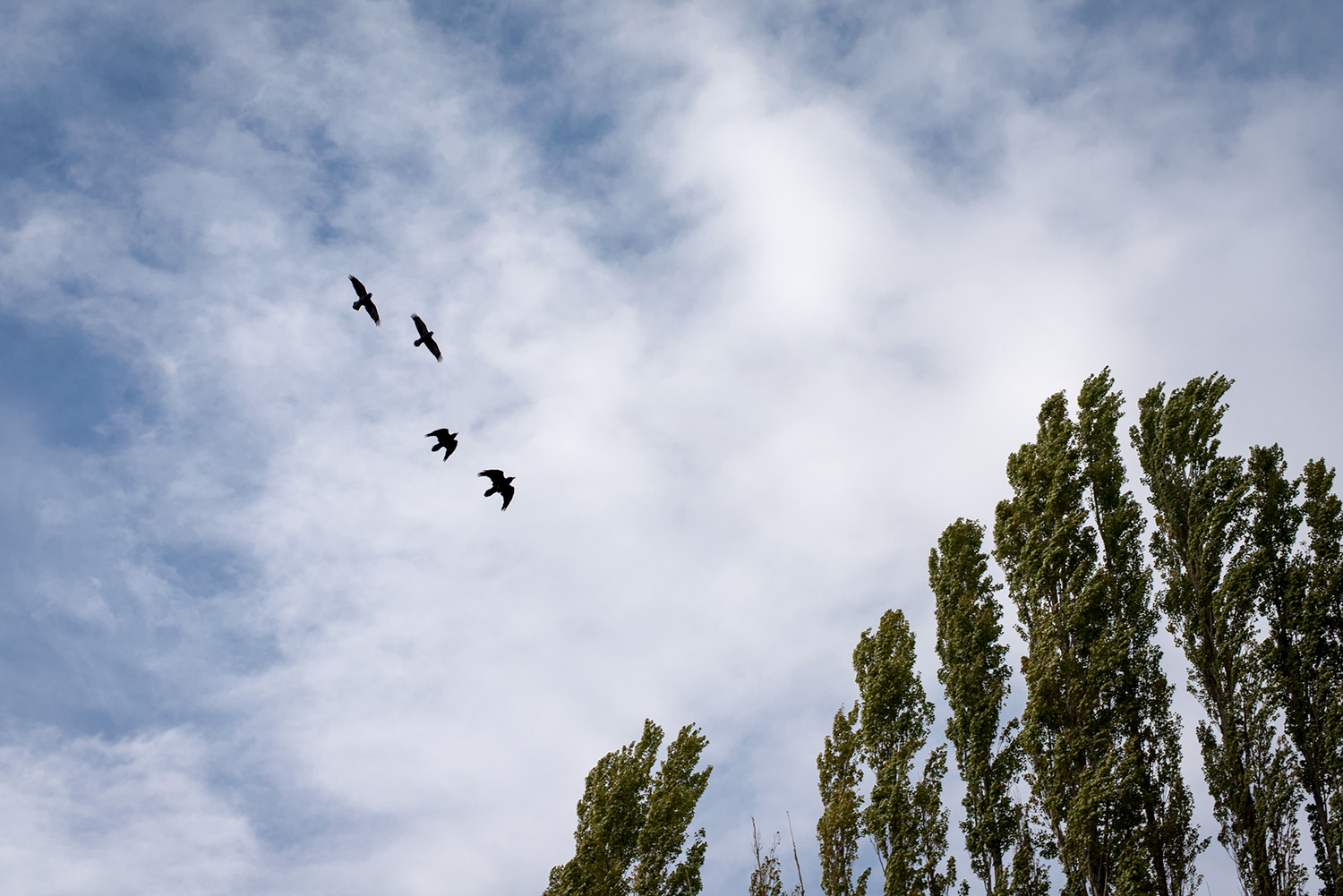 While stopped on a bluff after leaving the Colombia basin I watched some crows cycling a thermal rising out of the drainage below.  Was there a purpose, or was this purely recreation to them?  I likened it to my riding with no destination other than the rise and fall of mountain passes.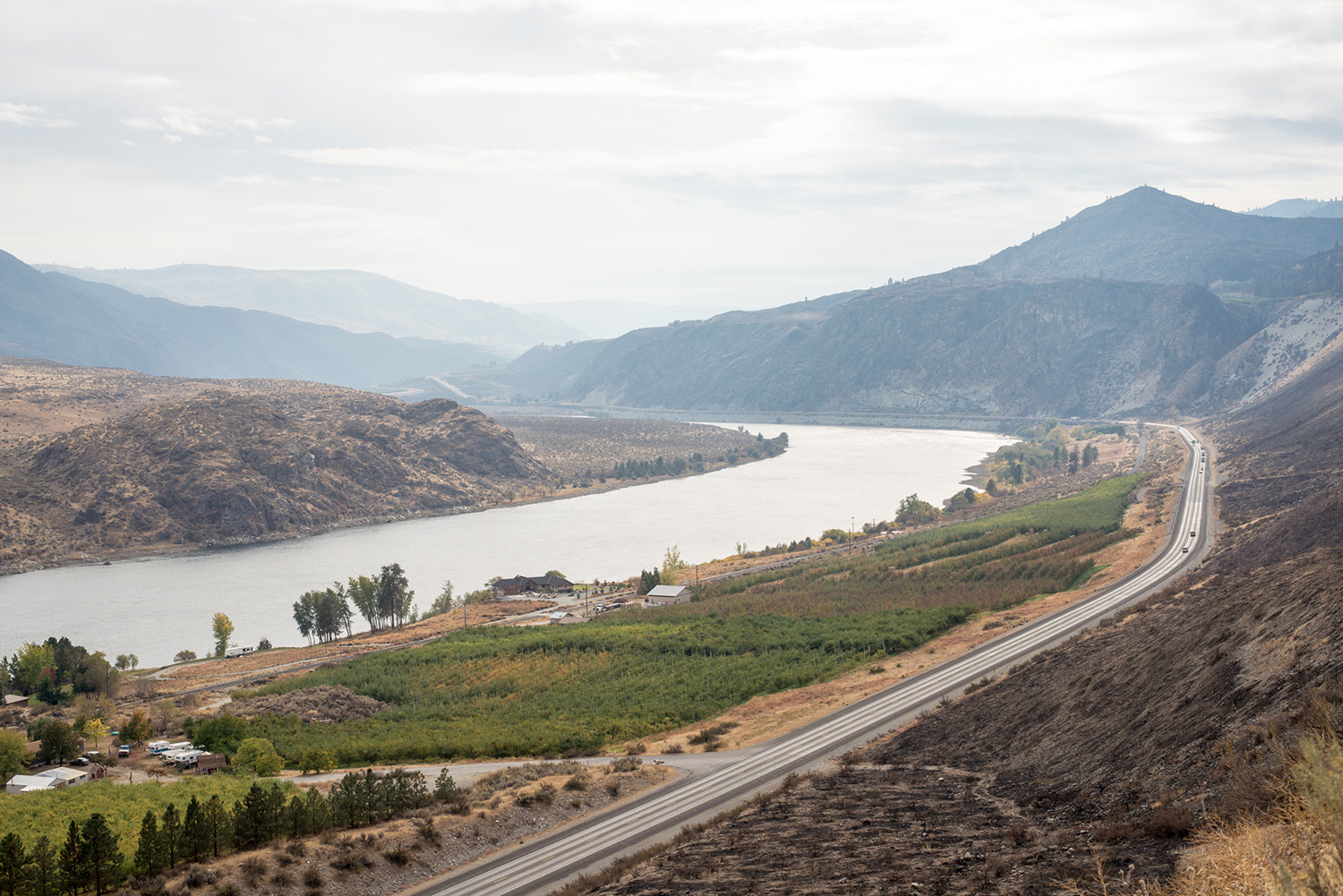 Escaping the noise and redundancy of the major highway below I was resorting to the winding westward pull back towards home.  As I climbed I couldn't help notice an obscene amount of Light beer cans on  the side of this road.  I crept closer to the shoulder with each passing car not wanting to join these Coors light cans as a final resting place.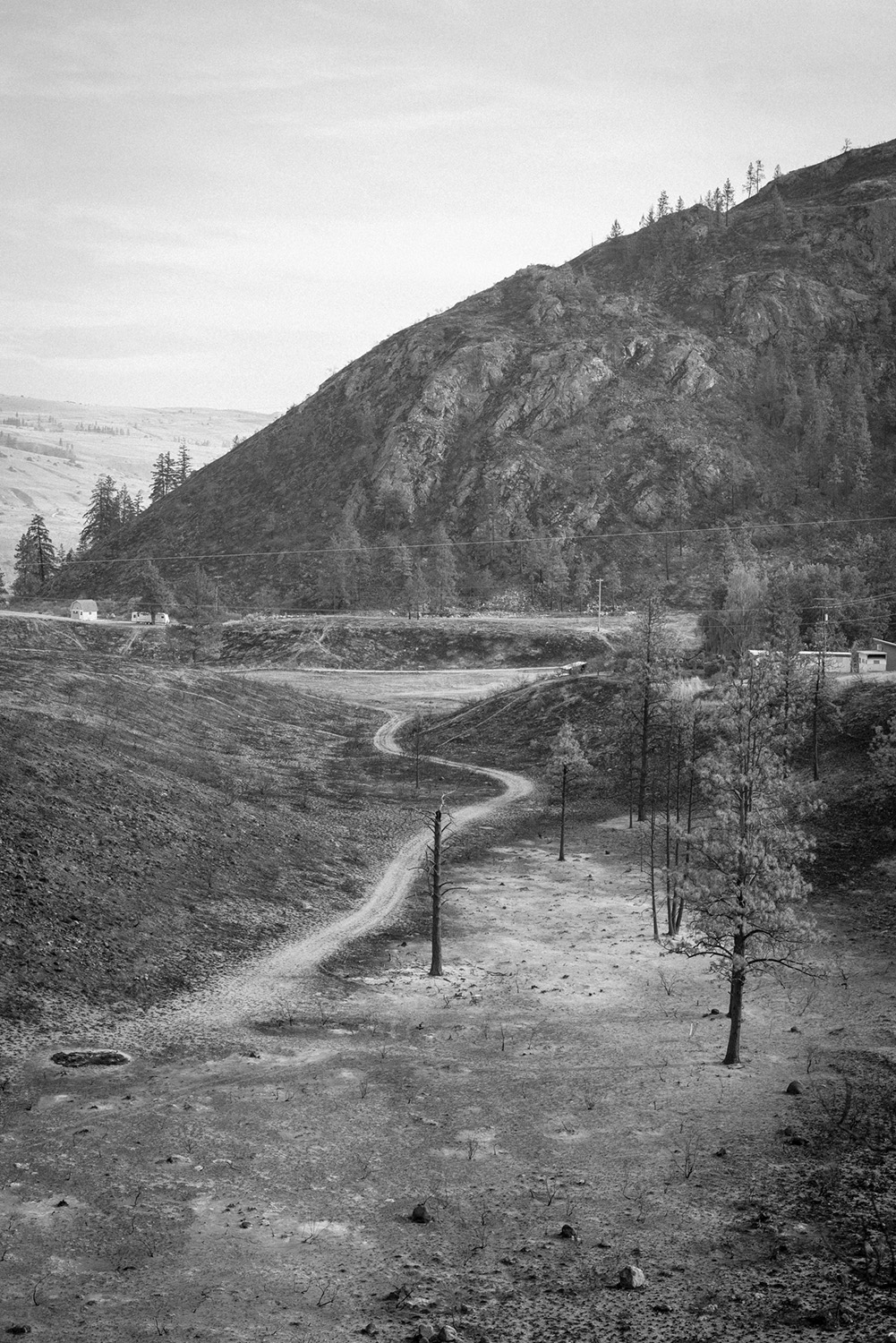 Riding into Chelan I passed by the remnants of this previous season burn.  A stark contrast to the climate that pulls me homeward.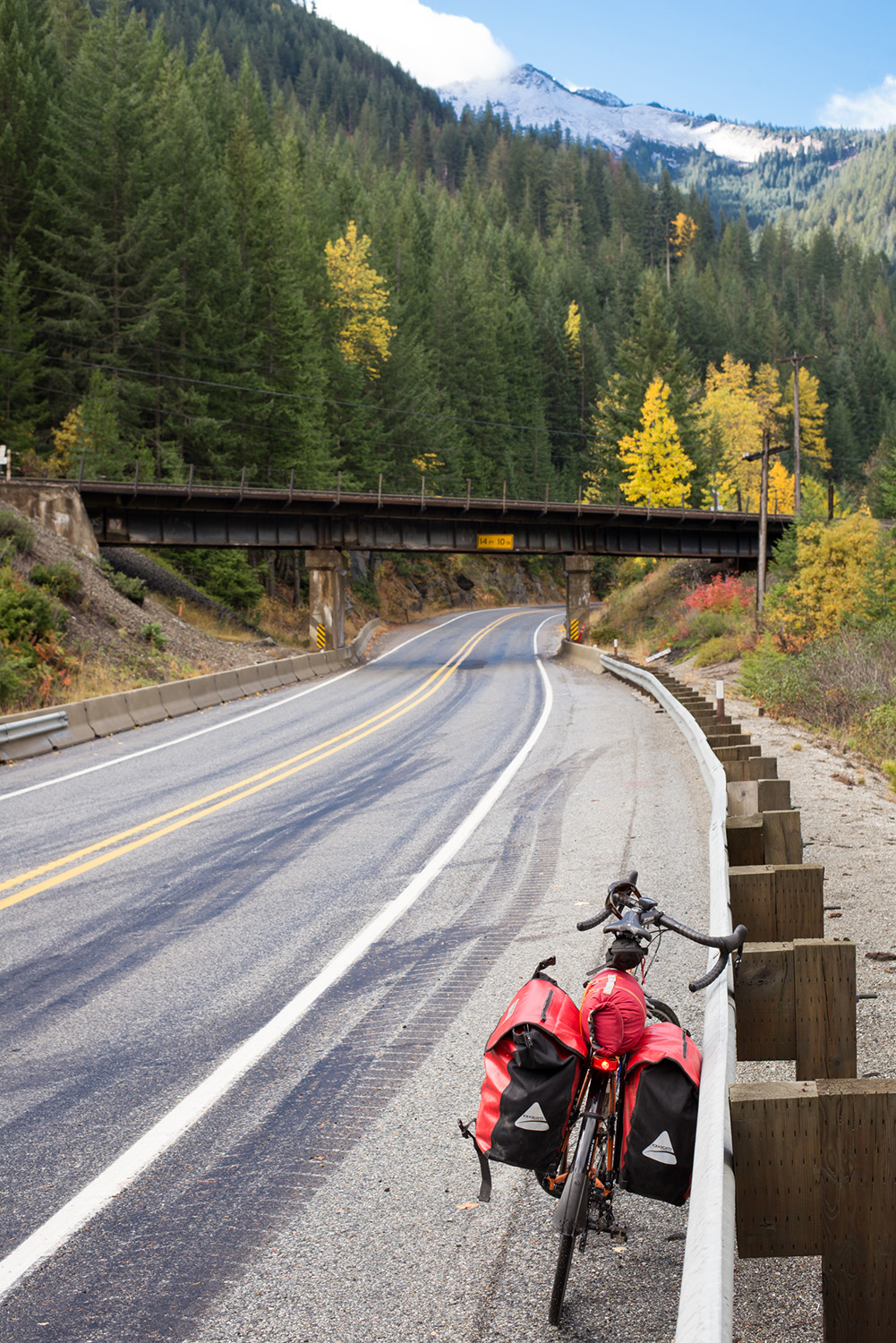 The night before i had been flushed out of Leavenworth by hordes of wooing 12th men and women dressed in lederhosen.  I made a last ditch phone call to the only civilized people I knew in the area, as the impending dark clouds weren't going to do anything good for me.  Willy and Erin hooked me up with a roof and a hot meal that night as well as inspiring conversation about farming on the east side.  This having nothing to do with the photo other than the good mood it had put me in as I embarked on a 120 mile day towards Seattle.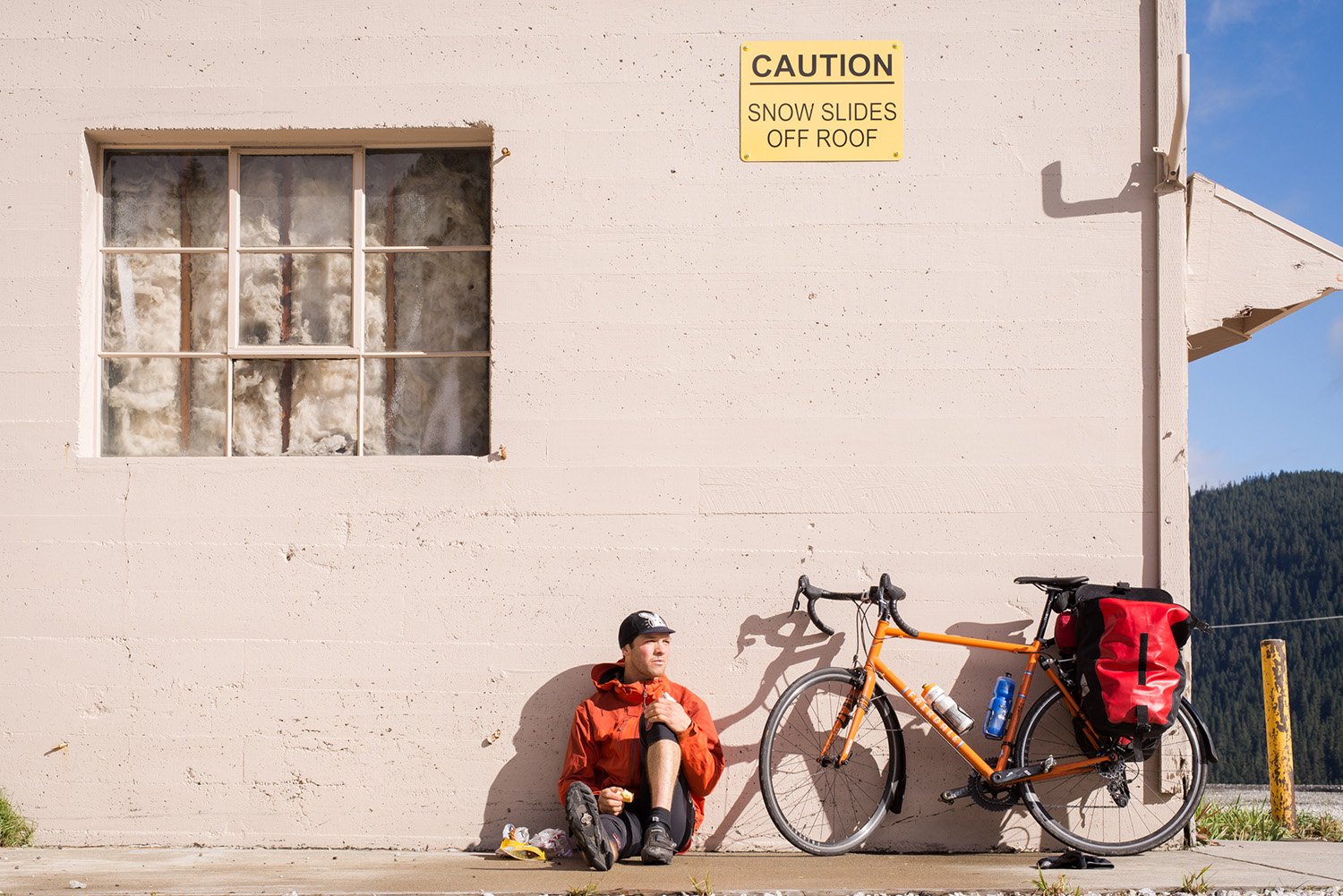 Not thinking much of the ride to the top of Stevens pass on highway 2, expecting the road to stay as comfortable on the way down as it had on the way up, I dropped into an entirely different road.  The intermittent shoulder was covered with heavy amounts of wet leaf litter and branches. The road was made more dangerous by rapid fire RV traffic returning from the Leavenworth beer festival. I'm not sure if they were trying to kill me or merely graze me.  For 50 miles I had Clenched my asshole before I could get off this terrible highway. I was apparently and uninvited guest to this Sunday drive.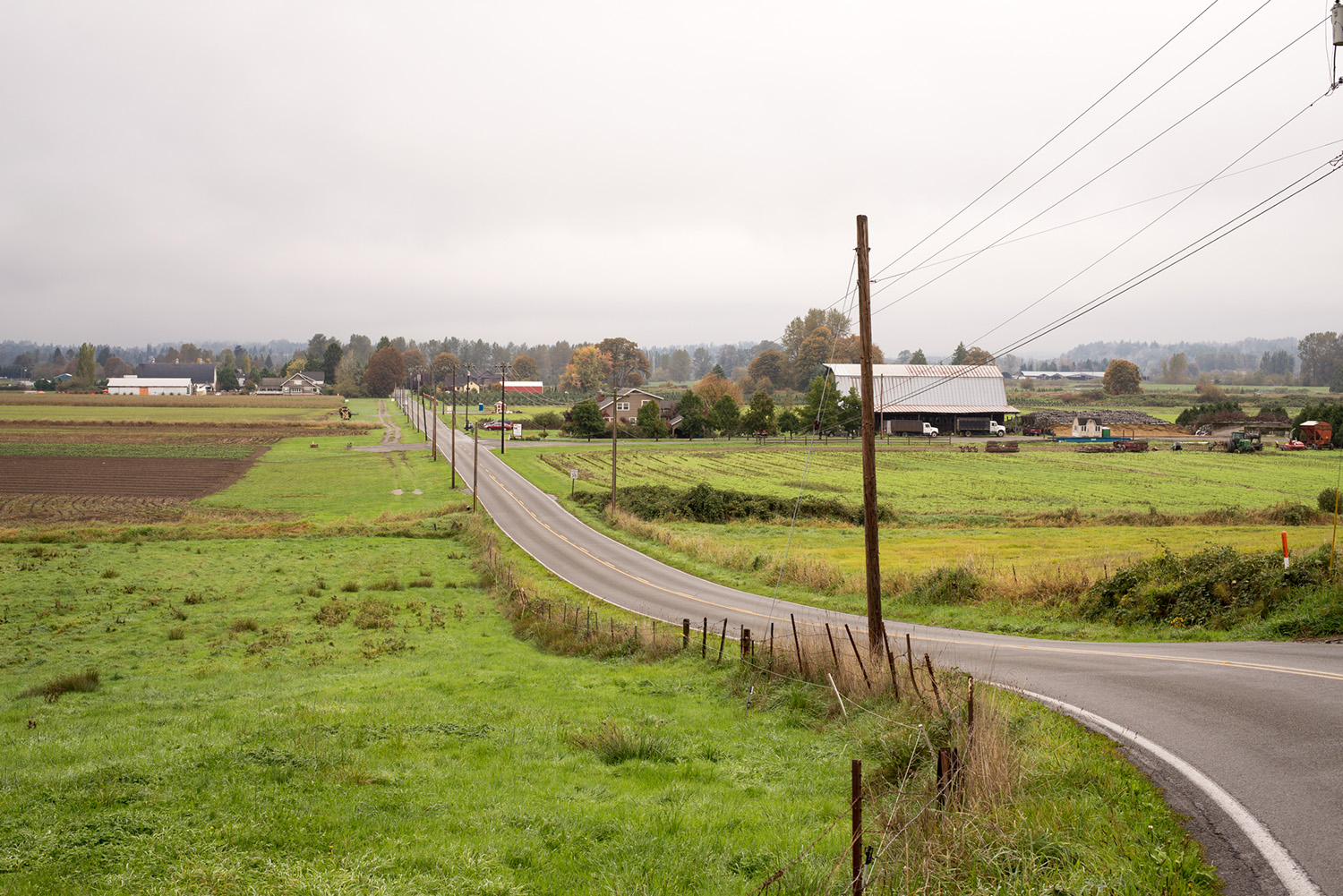 The eventual moss covered road was warm welcome back home to the temperate rainforest I love.  It was nice to fight the weather and the traffic for a little while but the craving for my quiet habitat in the forest was too strong.  This night i pedaled into Glacier and nothing had changed.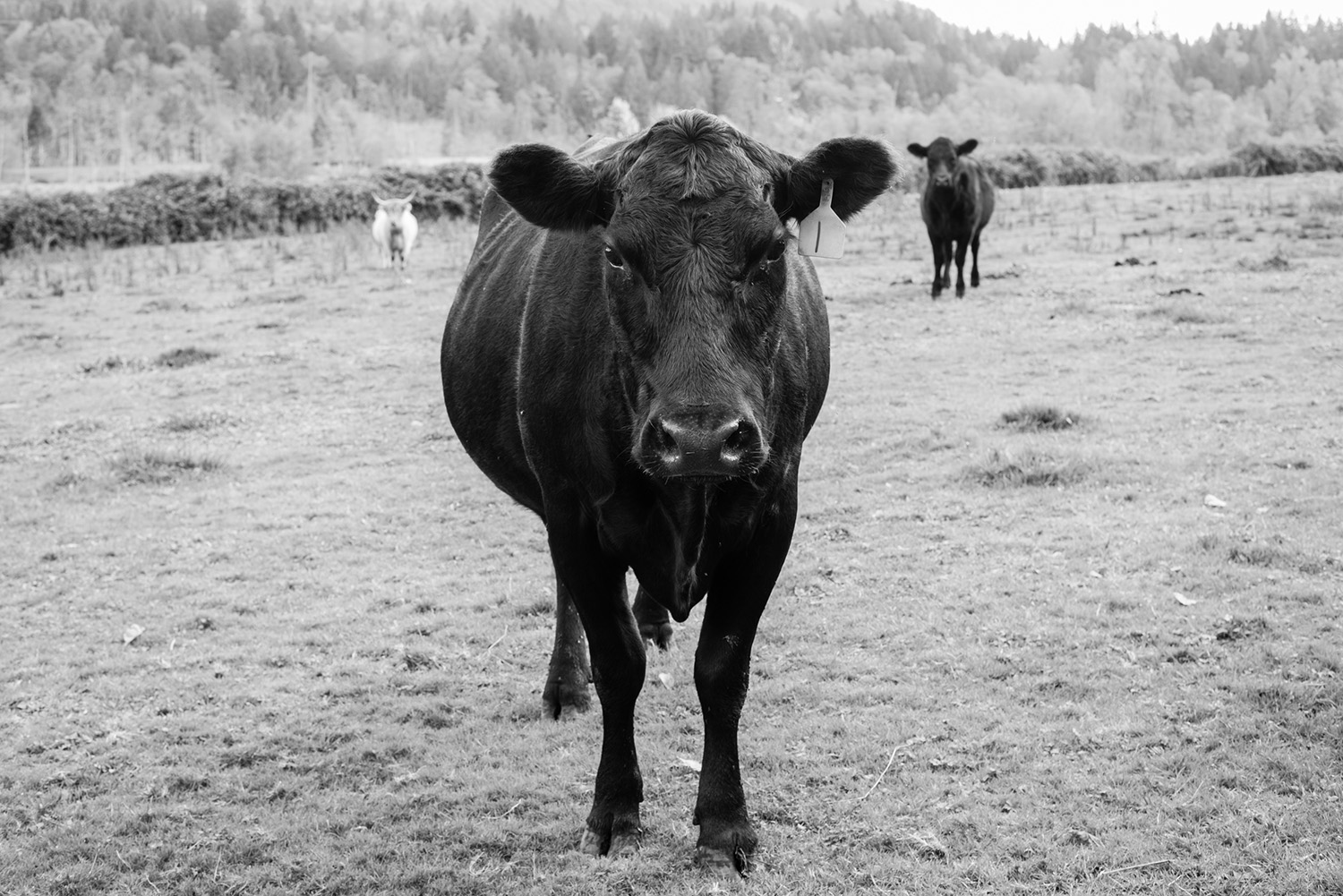 I love studying animals without worrying about staring too long.  They don't pass judgements, most of the time content in staring back.  If I stare long enough could I read this cows mind?
–Seth