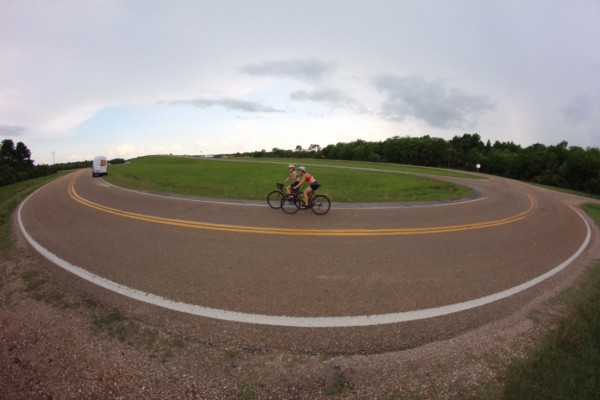 From Phil: Going down the frontage road on I-10 in Louisiana is like going down one big, long bike path. Today's ride was pretty straight forward. Not a lot of twists and turns just one long quiet frontage road. It's pretty nice. You can really ride your bike a long way without having to get on a real highway. Lots of people are nervous to ride their bikes, but you can really find a bike-friendly route. I think only one car has honked in anger (jealousy?) this entire time.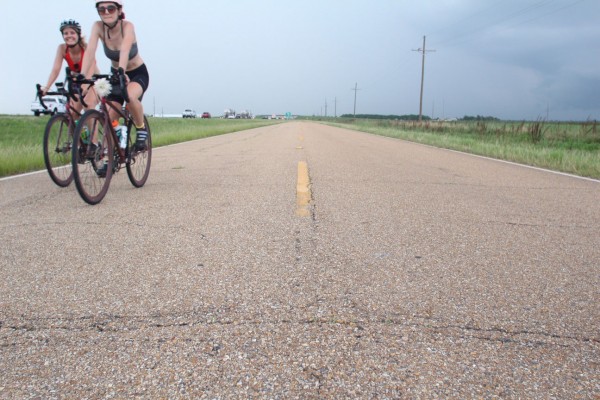 From the campsite, we passed through Lake Charles, Louisiana. I split off from the girls for a few hours to check out what the city has to offer and visited the only bike shop in town.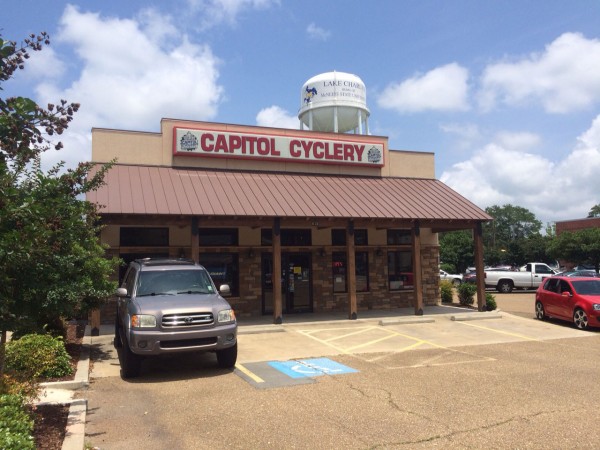 The shop explained to me that there is a small scene in Lake Charles and that they were looking into carrying more BMX bikes and parts in the shop. Just riding around the town I did notice some obvious skate and BMX spots.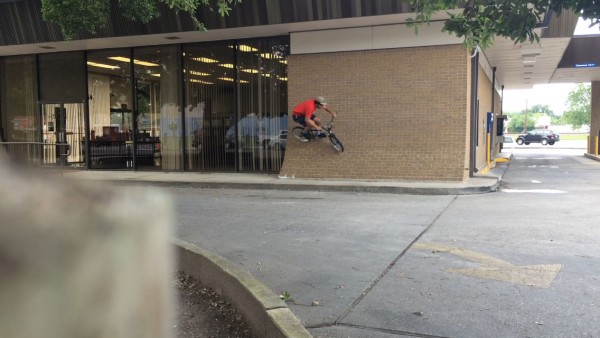 Flat rails, wall rides, and unique architecture around every building. This one bank had the craziest walls going around it. I rode the bank a few times with my BMX bike before getting the boot. The lady that told me to leave was really nice and she seemed totally perplexed that I was riding my bike on the side of the building.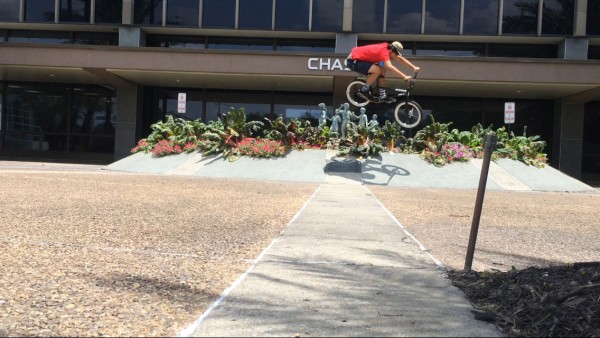 I left super politely and said thanks. For me, riding nowadays is all about finding spots. I always like looking for new things to ride. It's a good excuse to get off your butt and go somewhere new. Sometimes you find nothing but the days that you strike gold are really quite euphoric.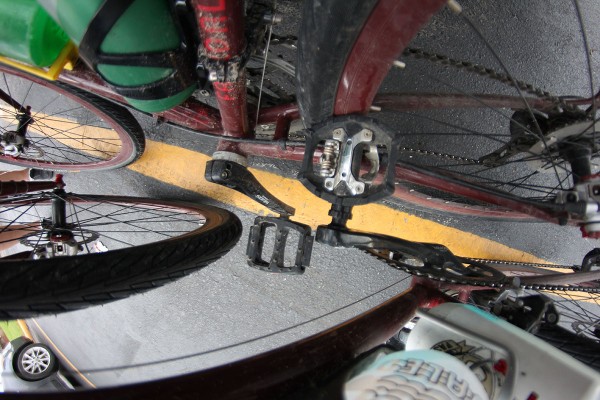 I caught up with the girls after getting a little exercise. We ate some lunch in Iowa, Louisiana and then pushed on. It started getting dark like it was about to rain. But the girls managed to outrun it before it caught up to them. This will be the first day that there's been no rain and no one's been rained on. Also I case anyone was wondering both bike are as they come out of the box the only thing different is Liz has clip less shoes and Emily's just been wearing keds.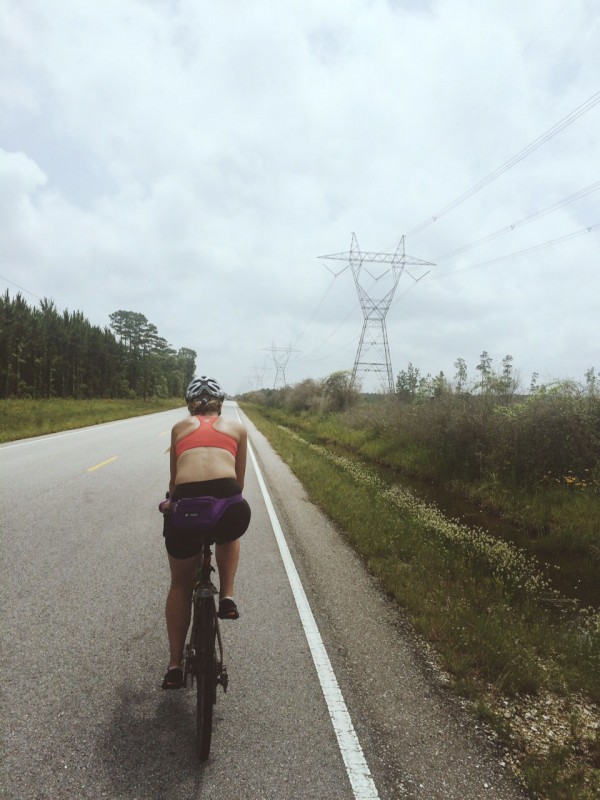 From Emily: Woke up on day 5 a little chilly in our tents, which was wildly refreshing. We realized that after today we would officially have more miles behind us than we do ahead us and I can't tell you what that felt like. We decided to really take in this day, starting with a nice slow and easy morning. We packed up the campsite and hit the road and yelped Lake Charles' hidden gem, The Stellar Beans! It was a perfectly weird little coffee shop with hot croissants and strong coffee. We lounged a little on a comfy couch and finally got to biking a little before noon.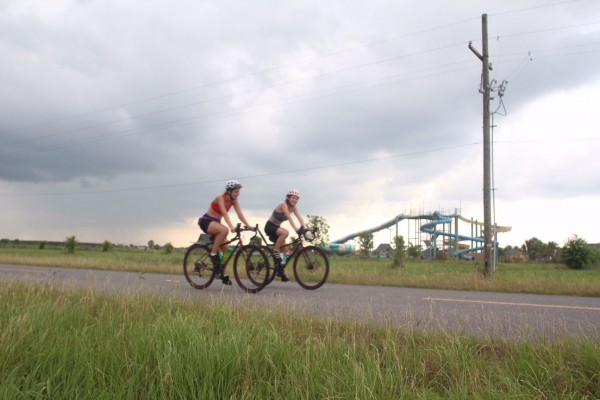 Liz and I decided to zone out for most of the ride today. We were cruising along peacefully on some back road when Liz realized her odometer was missing. Thank goodness she had remembered seeing it within the last 3 miles when we last turned so we bucked up and went back looking for it and found it within the first mile back.  We ended up pushing out a little under 40 miles before making our first stop to meet Phil in Iowa, Louisiana for slushies and hummus wraps. It was a very leisurely and long lunch then we hopped back on for our last stretch of the day.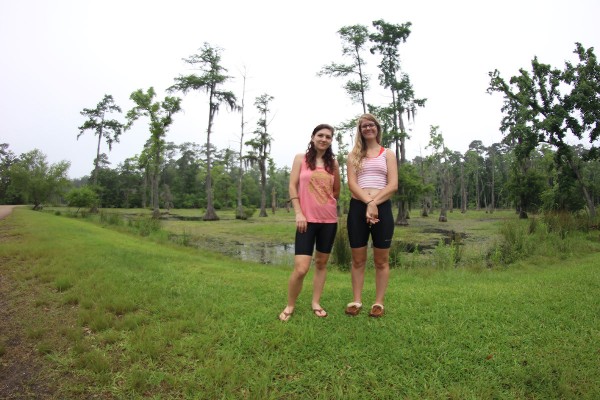 A storm was moving in and so we wrapped our phones, prepared our jackets and pressed on. Riding in the rain is our new normal it seems but we managed to out-race the clouds as they crossed North and we headed East.  What a boring stretch to end our day, we trudged against some fierce wind on the frontage road of I-10 the entire way to the hotel. The highlight was either the friendly "howdy" honks or the end when we saw our motel right off of the highway. Another day under our belt in an adventure full of milestones for each of us.