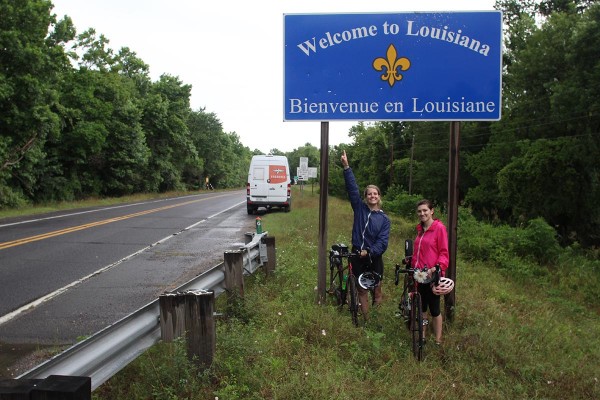 From Phil: The day started out sunny with lots of twist and turns in the road.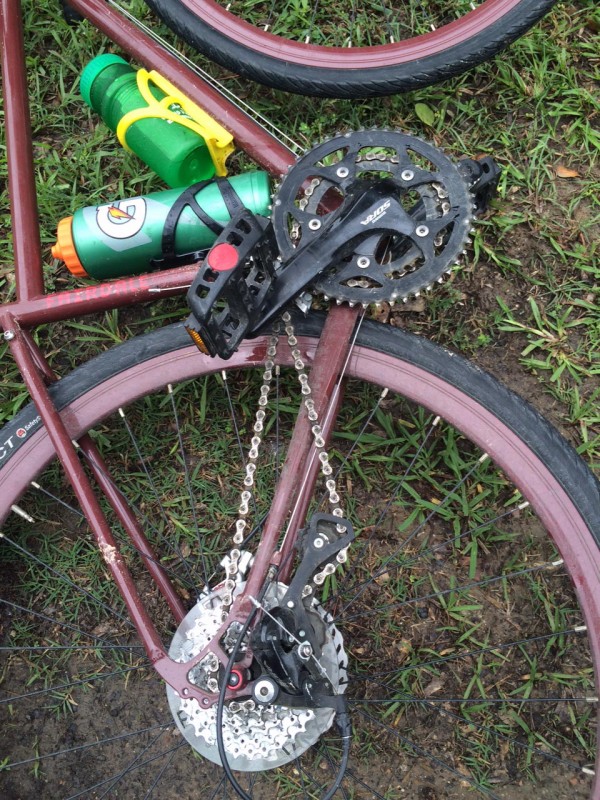 Within the first 5 miles, Emily wrapped her chain around her sprocket. I'm sure someone reading this has gotten chain suck. That's when your chain gets wrapped around the front chain rings and wedged all in the bottom bracket. It was a mess but lucky it didn't break. After fixing that we moved on.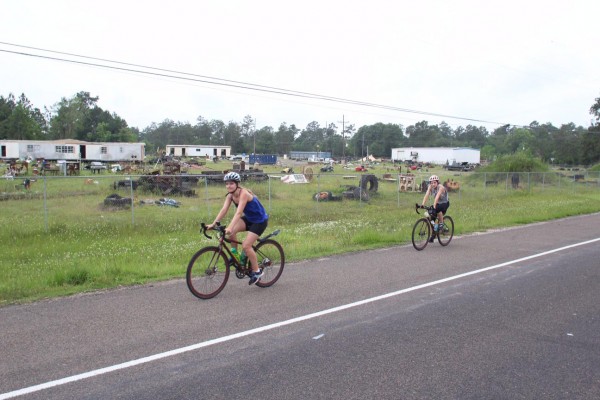 We went down one road where they turn raw trees into two-by-fours. All day long we got passed by huge 18-wheelers carrying tons of wood. We also passed another place that made skids or pallets. They looked like pizza boxes stacked a mile high… Dangerously high. It smelled like a match box for miles.
We saw a couple of different yards with loose dogs on the way. There was one neighbor with a couple dogs that chased us for a while. I don't think they get visitors or have ever seen a bike so they were really excited. That probably sounded scarier than they actually were. The girls also had a close call with a red and white dog. It was right at Emily's heels.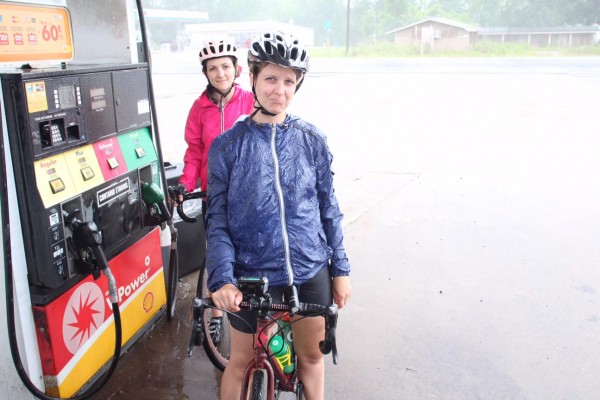 After stopping on the side of the road for some food, it started raining. Then it dumped rain. But at least it wasn't lightening and tornados, right? We let the rain die down and then the girls pedaled on. There was a solid 10 miles of hit-you-in-the-face-and-it-hurts kinda rain but those two kept pedaling.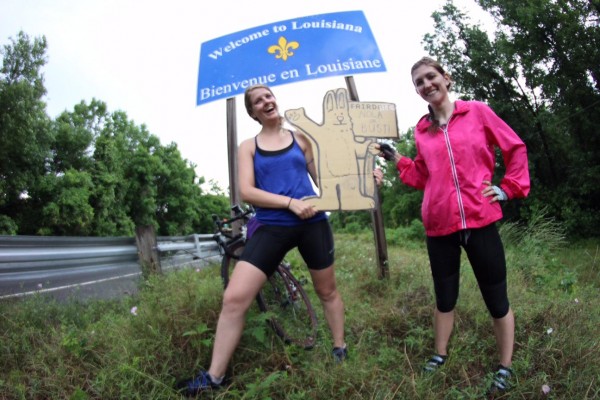 We finally hit Louisiana. The rain subsided and there was just a little more ways to go to the campsite. The shoulder of the road where the grass is was pretty full of water. I think everyone all over has been getting this heavy summer rain. Some spots were definitely under water.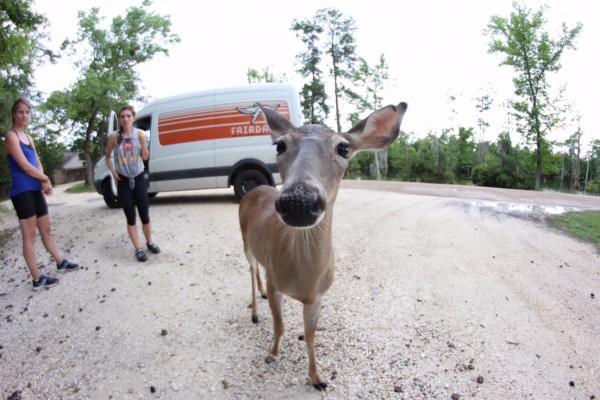 We got to the campsite and ran into a wild deer. We got close, closer and finally just got right in its face. I've never meet a deer so cool with humans. We took some photos with it and liz tried to give him the rest of her apple (deer do not like apples or baby carrots if you were wondering).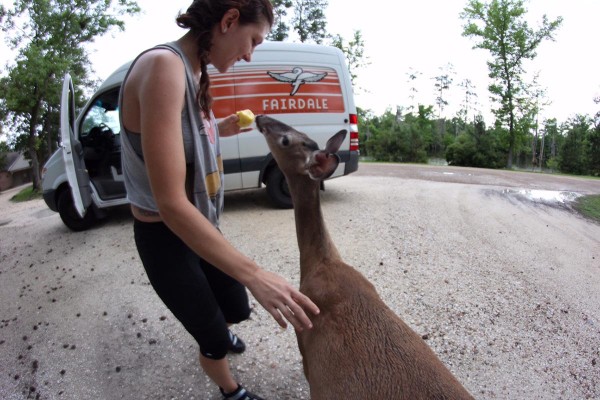 A friendly neighbor in an RV hooked us up with some wood and a firestarter and I got a roaring fire going. We had soup and toast for dinner, along with smores for dessert. Now I'm writing this ready to pass out.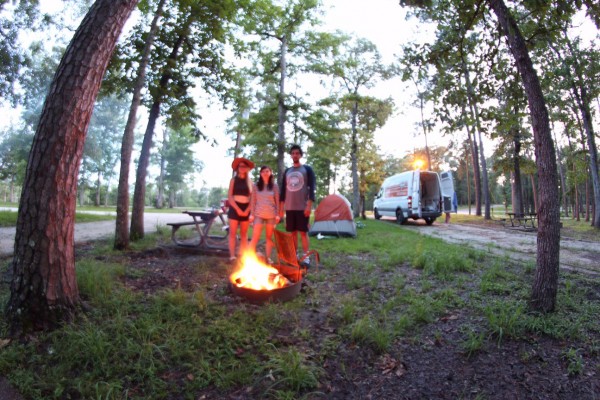 There seems to be a trend on this trip. If the first half of our day we are kicking ass and making great time, the second half of our day must be extra challenging. Apparently one of the roads on our route was bought out by a hunting club and is no longer accessible. So we had to think on our toes and reroute. It added a little more mileage, but we figured we would make up for missing miles yesterday.
A positive for the day is that the weather was wonderful for the most part. It was overcast and a little humid. We had a little rain, but only for about 10 miles or so which cooled us down.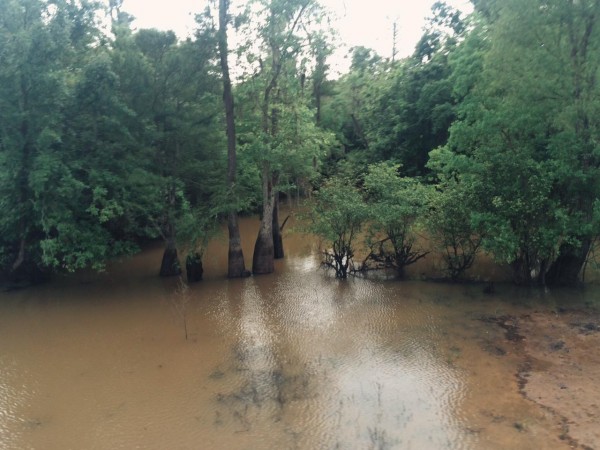 A huge accomplishment for the day was crossing into Louisiana! It felt so satisfying to cross that line. It was strange that as soon as we passed the state line, the flora changed right away. We crossed over bridges with boggy water and cypress trees below.
It's hard to believe the trip is already half over in miles and in days. I feel stronger every day and every day it gets easier. People told me it would be that way but I didn't believe it. I also feel our overall pace is improving. We finished the day at 71 miles, which puts us at a running total of 270 miles biked on this adventure.