My morning ride put me right into the middle of the school run. I rode with packs of kids pedaling to school. It was fun and a few of them wanted to race me. We rode together for probably 4 miles before they turned off towards their school. I gotta say it seems like a better life with kids riding bikes to school. My route jumped around a bit but I finally got myself back to the coast.
Here the mountains pushed right up to the water and as I turned on to the only road heading along the coast I found the way blocked by caution signs. I couldn't read the signs of course but it seemed pretty obvious that they were saying the road was closed ahead. I pedaled on anyway and confirmed my suspicions when I realized there was not one single car on this road. After riding in heavy traffic for so many miles it was almost erie to be in complete silence. When I rode through a long and echoey tunnel it was downright creepy. My route started climbing steeply and 5 miles in I was really starting to get nervous I would have to turn back. Still not one single car had passed and the road was completely deserted. It was beautiful though! As I climbed higher and higher I would periodically find the roadway overlooking a huge drop into the ocean far below. The woods on the side of the road were lush with bamboo and birds. The air was clean. I was having so much fun and so thankful for the peace and quiet I decided to just keep going. Even if the road was completely impassible retracing my steps would be nice. After 10 or so miles I had reached the peak and started a long decent. I raced through a few more empty tunnels and finally came to the end of the road. A tunnel with a barricade in front of it and then a big fence blocking off the entrance entirely.
If it had been in the states I'm positive I would not have done this, but out here all alone I thought it would be fun to just keep exploring. I managed to get my bike over the fence and kept on riding. Things seemed even more quiet here and the next tunnel's roadway was strewn with debris and even grass starting to grow in the cracks of the roadway. I kept on going. I rounded a corner and could see far ahead a old resort partially collapsed on the edge of a cliff. The roadway too appeared to be washed away.
I was feeling pretty sure I was going to have to turn back but I kept going on. Another set of barricades were across the roadway with even more serious looking warning signs. Climbed over those and finally got to where the road was collapsed down the cliff. A 100 yard section of the road had dropped about 8 feet down the cliff. It looked dangerously off camber and I really felt like I should not be there. To add to my anxiety there was equipment all over the road way that looked sort of like it might be blasting equipment. Sirens were there and odd wires connected to machines stretched across the road. Maybe seismic equipment measuring the drop of the road? I faltered on the edge of the dropped road because it just did not feel safe but then finally decided I would risk it. Again I felt like I would never do this at home, but for some reason this seemed like part of the adventure. I carefully carried my bike over all the silent equipment and climbed down the drop on to the road. I got a little vertigo at one point where I had to walk close to the edge of the cliff and started to think maybe this was a bad idea. I finally made it to the other side and climbed back up to the road with relief.
I started pedaling and entered another silent tunnel. At the end the roadway was fenced off again and I could see two security guards standing just outside the fence. I got to the fence without them noticing and felt like I had come way too far to turn back. I lifted the fence to move it out of the way and it made the loudest screeching noise as I slid it across the cement. The two security guards jumped back and  stared at me in dumbfounded silence. I sheepishly waved at them, put a leg over my bike and slowly rode between them. Not a word was spoken and a few pedals later I was flying down a steep hill away from my little adventure. I'm sure it was dangerous and illegal but it ended up being a highlight of the trip. Miles of beatutful empty roadways all to myself was a little slice of heaven.
I don't remember a lot else of the ride on this day. Less city than the previous days for sure. I cruised through rice paddies and small villages, had some minor climbs, and some time along the coast. I spent 11 hours riding and covered 93 miles. By no means a fast pace. Lots of stops to check things out and take photos.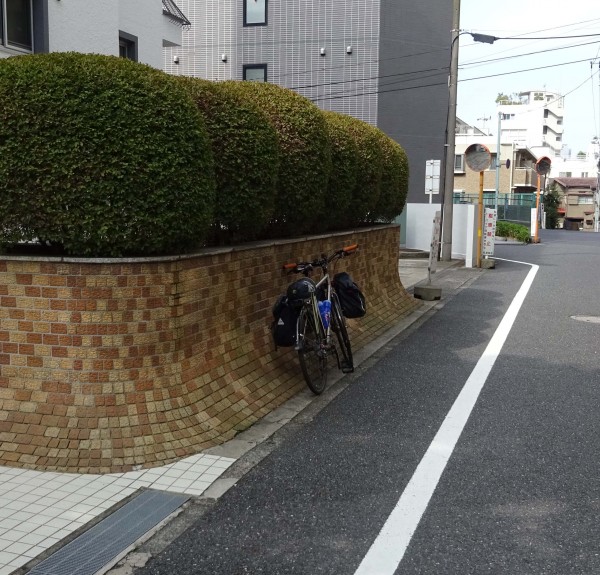 One cool thing about this ride is that there is a 7-11 store on just about every corner. It was hot today and I was chugging water but there was never any worry about running out with so many stores around.
Gear
For this trip I chose to ride one of our 2015 Weekenders with Archer bars. We'll only be using the Electro-Silver color on the Drop Weekender for production, but we had this one off sample bike made as an Archer version. I had in mind that I wanted to take my time and really see the scenery so I thought a more upright riding bike like this would be cool. Whenever I get on a bike with drop-bars I tend to just put my head down and crank. I'm sure I would have gone much faster with a Drop Weekender, but I was really glad I brought the bike I did. The only thing that I changed on the bike was the pedals. I put some Odyssey Trailmix pedals on just because you can install them with an allen key and I didn't want to bring a heavy pedal wrench with me for the ride. Thanks to my BMX days I'm completely comfortable riding flat pedals and I liked being able to hop on and off the bike to explore things without dealing with slippery-clippy shoes.  I even used the stock seat on the Weekender instead one that I had been fitted for. I'm not going to pretend that the stock seat on the Weekender is super amazing, but I was really surprised at how comfortable it was for me. Since everyone's got a little different anatomy going on "down there" saddles are a very common upgrade and if you start putting in miles that might be the first thing you change on your bike. I did well on the bike though and put in long days without seating issues. In fact I didn't even bother wearing cycling shorts until the 3rd day.
The rear rack was a sample of a new Fairdale Adjustable Cargo rack that I wanted to test out. It did well, but more on that soon. Front rack was a borrowed Blackburn Mountain rack which fits the front rack mounts on fork legs. In the Blackburn bags I had minimal clothes, one light rain jacket, a camping hammock, sleeping bag and a couple tubes. I somehow brought only one sun sleeve and regretted not having the pair right away. If you fry in the sun like me those things are awesome. They don't make you hot at all but do a good job providing sun protection. In my small back rack bag I had my tablet, toiletries and a drawing pad. I had enough room that I could carry any food I picked up in there too. Since there was a 7-11 every few miles I never really felt like I needed to stock up on much so I kept it pretty light. I kept track of the trip with a Garmin 200 GPS tracking thing (find maps of my trip at the top of each day). I mostly picked it because it has great battery life and I did intend to camp (and was unsure about when I might be able to recharge). In the end I lugged my camping gear the whole trip and never used it once!