I checked my map and saw that there was a castle near my hotel. Out pedaling by 6am I rode up to the Odawara castle. It was really amazing. Not like a stone castle you'd find in Europe, but a big beautiful and ornate temple looking place. Huge walls and gates and a feeling of oldness that made it seem almost holy. Perhaps it was, but the spacious and tranquil grounds sure were a nice change from the traffic. My route had me cutting across a peninsula today and I really didn't know what to expect. It appeared I would be going over a mountain range but I had no idea how big or how far it was. I mapped out some back roads to cut down on traffic and headed inland. Immediately I started climbing and the little roads I was on were so steep! Honestly they were the steepest roads I have ever seen. I think you could probably fall down these roads they were so steep. Every pedal took a stand-up, gut-busting effort. I climbed something like 1400 feet in less than a mile. When I finally reached the top I felt like a super hero and encountered a confusing sign with highway 11 shooting off in 3 different directions. I rested there for a while and spent some time figuring out which of the "11's" I should take. Luckily choosing correctly I was rewarded with a long decent where I was able to cruise at about 30 mph sitting completely upright letting the wind cool me down. I stayed at the speed of traffic and had a wonderful coasting cruise for a few miles.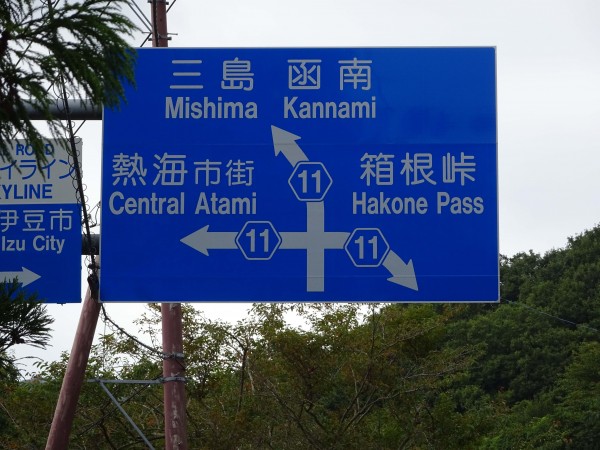 I hit the coast again mid day and was at the base of Mt Fuji. Sadly the haze was so thick I could only barely make out a dull outline. The coast here was again pretty industrial. It also got quite humid and sticky. For about 11 miles I was able to follow along a nice quiet tsunami wall.
It was weird out here. Quite a few homeless-dude shacks on the beach or in the woods, a lot of trash spread across the beach and a general air that this area was just forgotten about. Again I don't think this was a really nice place to be, but it was profoundly interesting to me.
Occasionally there would be a small and busy beach loaded with surfers too.
There seemed to be consistent waves out there for them too. My route fed onto a busy highway that had a bike path along the edge. Here the highway is literally on the beach, elevated over the beach for the most part. The bike path kept jumping from one side of the highway to the other. This got a little old as there was long waits at traffic lights to cross the freeway. Eventually the path put me into the middle of two different but busy parallel freeways. It was loud and hectic all around me, but the bike lane was empty and I made good time for a while. The bike lane would occasionally come to a dead end with no warning or signage. Luckily twice there was another cyclist who seemed to know the way. In both cases the solution was to ride along the busy highway against traffic to find a narrow little chute that put you on another bike path hidden on the opposite side of the freeway. It was hard for me to get used to, but during my ride I did learn that there always seems to be a bike path option, but it might not be obvious where it is.
Today I also rode in the roadways a bit more. I realized that though the roads are very narrow compared to the US so also are most of the cars. And, I think everyone in Japan is simply more used to being in such close quarters in regards to traffic. Riding on roads so narrow in the US would be impossible, but here I felt pretty safe and really never had any dangerous situations.
Started to rain about 5pm and I happened to be in front of a hotel. Another inexpensive room and again I was asleep early.