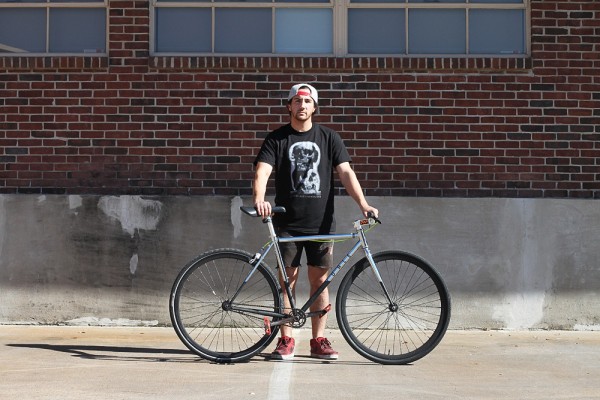 Anthony over at Sanctuary Printshop took one of our Coasters and made it into something really special. I can't think if anything more flattering then someone customizing a bike we made. Since it looks so badass Nuno snapped some photos and got the story about this fine machine. -taj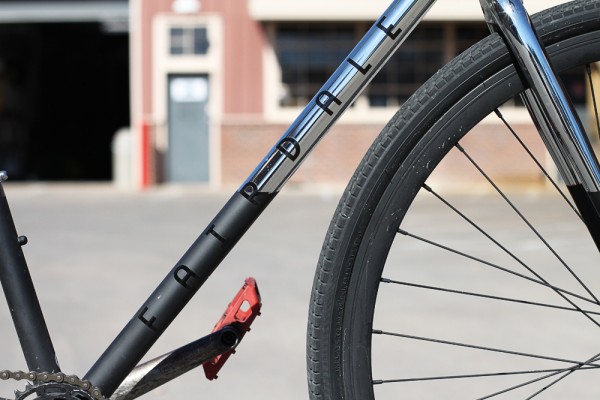 Tony, we're digging your custom Coaster colorway. The split chrome and black looks cool. Tell us how this came about.
Thanks! When I bought my Coaster, one of my favorite aspects were the stickers and how the colors popped off the chrome, but I also knew that it would only be a certain amount of time before I'd get the itch to personalize my ride and really make it mine. When I finally took the step in removing the factory graphics I knew that I wanted to do something cool that no other Fairdale would look like but still stay within what I think Taj and the brand would approve of. Coming from a strong BMX background, flat black has always been a go-to for a default color choice and I knew that using a particular styling in combination with the chrome would look really sick. The idea of the horizontal split came from a tool that the company that I work for (Sanctuary Printshop) purchased for a project, a self leveling laser level. The inspiration came from some Cinelli frames with angular paint jobs I'd seen through the Fast Folks Instagram. So, I set up the level to the height I wanted, marked and taped off the lines, then went to work with my trusty rattle can and after a few coats and some clean up, I was stoked!
There are a few parts on my bike that would qualify it as a BMX hybrid, considering it technically isn't a coaster. Adding a set of profile cranks, Eclat rear cassette hub and brake was a progression that I thought would be beneficial to my personal commute. I was able to dial in my gear ratio to be heavy enough to maintain a steady pace with traffic (which I feel is important as a mindful cyclist) and also invite the familiarity of BMX into my commute as well.
Did you have any other ideas before settling on this one?
I'm pretty sure that if I hadn't taken the step to peel the first sticker from the frame, the original graphics would still be rocking on the frame…they look dope!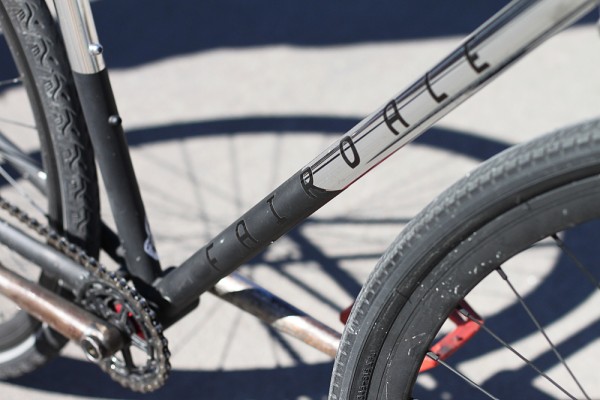 How did you make the custom black downtube sticker?
A few month after I bought my Coaster I found out that Sanctuary would be involved in an awesome Sunday Funday party at Easy Tiger with Fairdale called Easy Sunday. Sanctuary is a design studio and printshop with everyday production and workflow but we also specialize in mobile onsite screen printing activations. Taj with Fairdale was kind enough to send over the branding kit and some suggestions of which designs he might like to print for the day. At this point my creative mind kicked into gear and I took a look at the kit. I was sold on the simple and to the point look of Fairdale on the down tube in black after a short debate on whether or not to shadow the logo in an accent color…I was digging the somewhat monochromatic look that was going on.
Is this bike your main commuter?
When I'm pedaling to work or to meeting up with friends on a leisurely kind of day, the Coaster is definitely my commuter! I also have the legendary 29" Taj cruiser that I cruise when I'm looking for an even more cush' ride.
Thanks! Anything you would like to add before we wrap this up?
Pedaling is all about having fun, it doesn't matter what size, shape or style of bike it is…, just pedal and put a smile on your face!
Huge thanks to Fairdale for making rad bikes and another huge thanks to you guys for thinking my bike is cool!