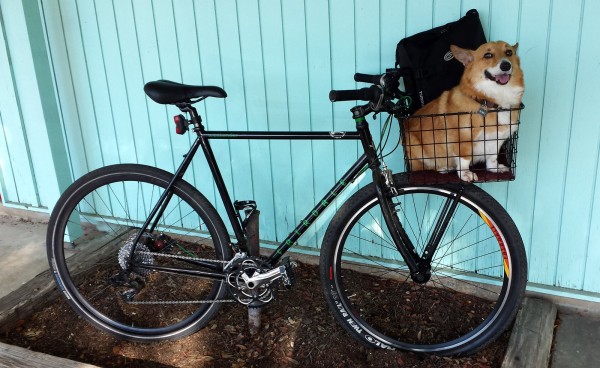 You'd think I'd have some awesome bike since I get to do the design work at Fairdale, but actually my bike is a hodge-podge of mixed up parts I'm either testing or have won through a bean bag toss at Interbike (thanks Niner!). I've essentially had the same Weekender build since the West Coast ride we did a year ago. I spent a few hours rummaging for spare parts and rebuilt my machine into this dog carrying commuter.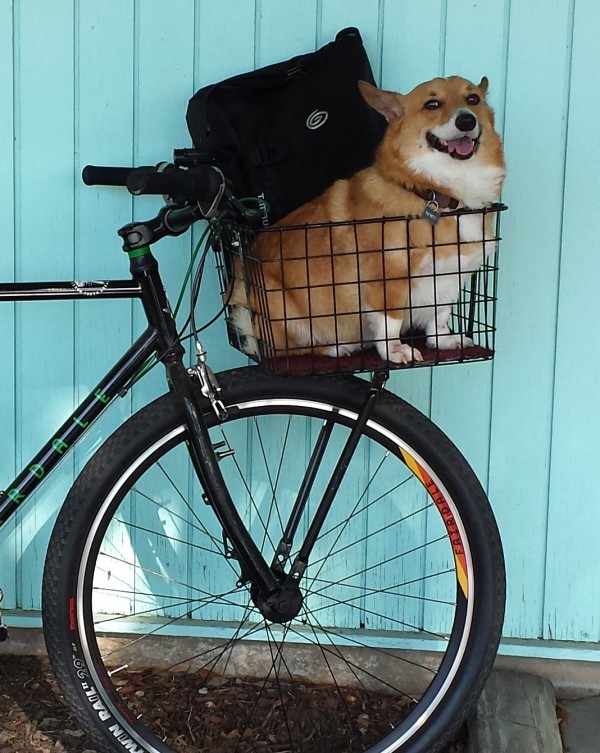 There's no doubt about it, riding with a dog in a basket is dangerous. Having all the extra weight up front slows down steering and makes quick changes a bit harder to negotiate. Plus, you're constantly worried about bouncing a dog out of the basket. I guess it's not different than riding with any precious cargo though, like a kid or a pizza. Just be careful and be looking ahead.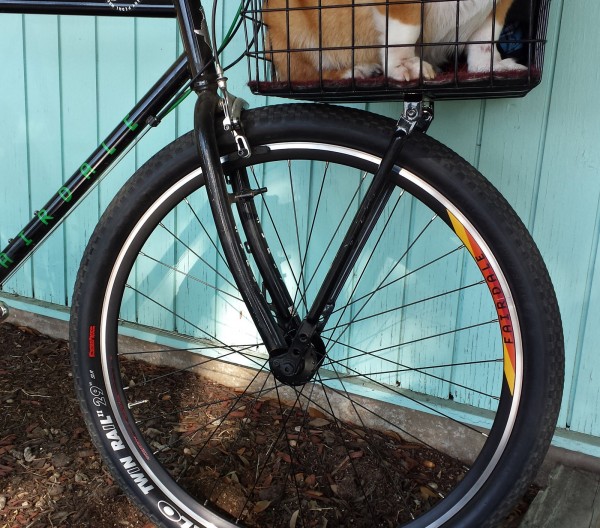 I used a Wald Giant Delivery Basket as a starting point. It's big, heavy and sturdy. I substituted the normal Weekender fork for a  Surly 26″ fork. Since the Surly fork's length is corrected for suspension it works perfectly as a non-suspension corrected 29er fork and allows me to run a meaty tire up front. Halo sent us this sample tire a while ago and I highly recommend it if you're looking for a nice plump 2.3 street type 29er tire. I used this tire because its nice big size helps soften the ride for the pup. You may notice I'm using a crappy caliper brake up front instead of disc. This is because with this Wald rack you need to use a normal 3/8″ type axle (not a quick release) and this was the only 3/8″ axle hub I had around (from a Parser). I've had two different 3/8″ axle disc hubs blow up on me so I'm still looking for one that can handle the extra weight of the dog on board. Obviously disc would be my preferred brake with this extra weight.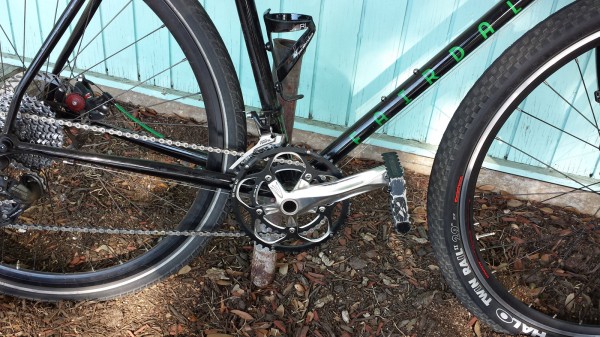 I added a front derailleur to give me a bit more gear range while hauling around the extra weight (and because it's hard to stand up and pedal with Monty shaking around up front). Again you can see the bike is all mixed up component wise. Some random crank sample I picked up in Taiwan, SRAM Rival front derailleur and a SRAM X5 rear derailleur. Please note carbon fiber water bottle holder to save weight.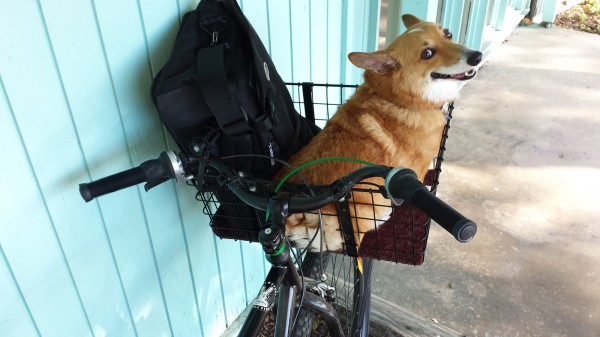 To further mix up this bike I used SRAM X9 grip shift shifters, a Thomson stem and a sample of the Fairdale Archer 2 handlebar (coming soon). I am still fighting this grip shift thing because something about it just feels weird, but I have to admit that even with all the random shifting components I'm using it works flawlessly.
So that's my less than exciting machine that gets me to work every day. Just got an 11speed Ultegra set from Shimano for a new project so hopefully my next bike post will be more exotic.