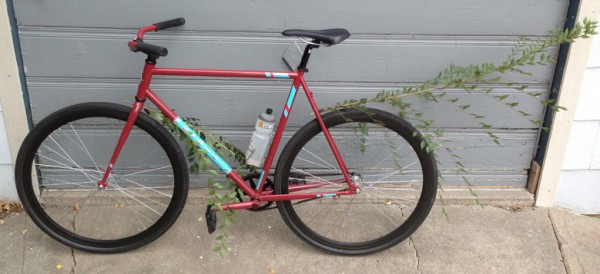 Considering that rain in Austin is a long forgotten memory from the pre-drought era you can hopefully forgive us for never talking about fenders before. In most parts of the world the ground will occasionally get wet and that shouldn't mean you have to stop riding. Nor does it mean that you should arrive at your destination with a tire splattered mud track across your backside. Having a simple set of fenders equipped on your bike will keep you nice and dry on damp-day rides. There's several options and our all-weather team rider Leif wrote up a little introduction for one of the most useful bolt on accessories in cycling. -Taj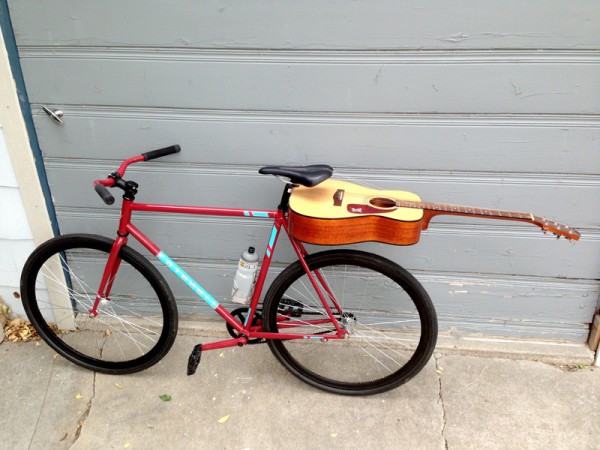 Fender Defender
If you like to ride year round or just want your wheels to have eyebrows you`ll need to fabricate or buy some fenders, I mean eyebrows. Fenders and the right clothing can turn an otherwise miserable ride into an enjoyable experience. It`s fun zooming through the rain watching water shoot off your tires and into the air and splashing through puddles without a care.
If you have no money or the great bicycle fender outlet (Bicycle shop) is closed for the day you may just want to wear a giant trash bag as a rain coat and pedal to wherever you need to be. Or, as an act of protest, go to the great fender outlet and cry at the front door until you run out of tears, then email the manager with an angry letter asking why they were closed when they knew it was raining and someone would need fenders (Editors note: I'm going to assume this probably actually happened at Leif's shop, ha ha). When you do manage to arrive at the bike shop you will see many types of fenders exist for almost every style of bike.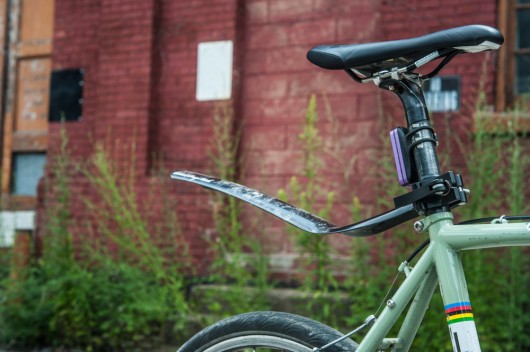 -Seat post clip on fender (this photo from Urban Velo)
A good option for keeping some water and the black stripe off your back. Not much fender, not much coverage but sometimes your only option with certain bikes (no fender mounts) and certain tires (too big for fenders). Works on almost any bike with a seat post that isn`t slammed all the way down in the frame.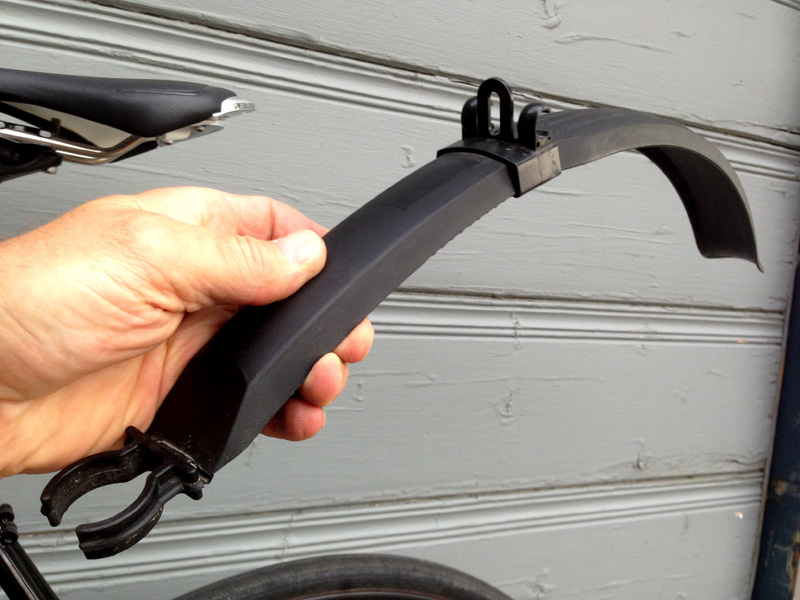 -Clip on fenders
A good medium amount of weather coverage, more than the seatpost mounted version and still easily and quickly removable when you don`t need them. Many different options around for these buddies, not all work on all bikes. Planet Bike Speed Ez for my Parser and Planet Bike clip on for my Weekender (no mounting hardware to interfere with disc caliper) are my favorites.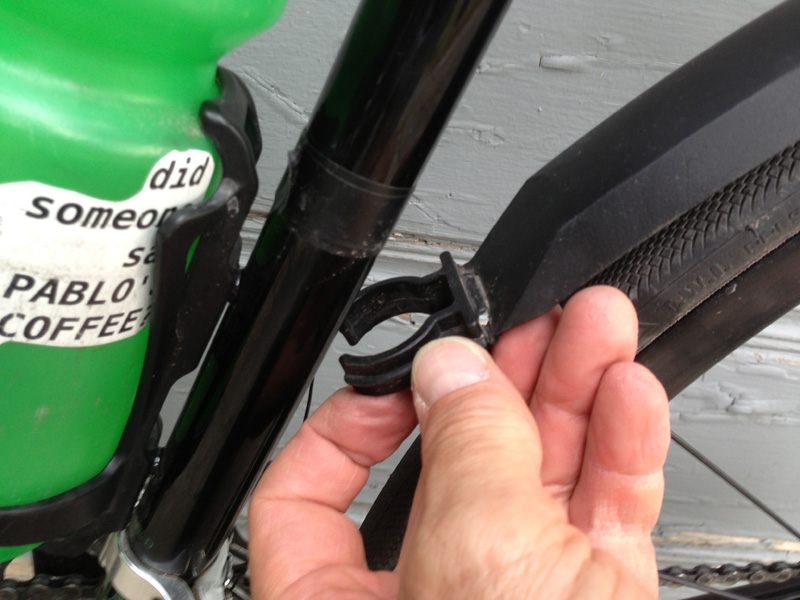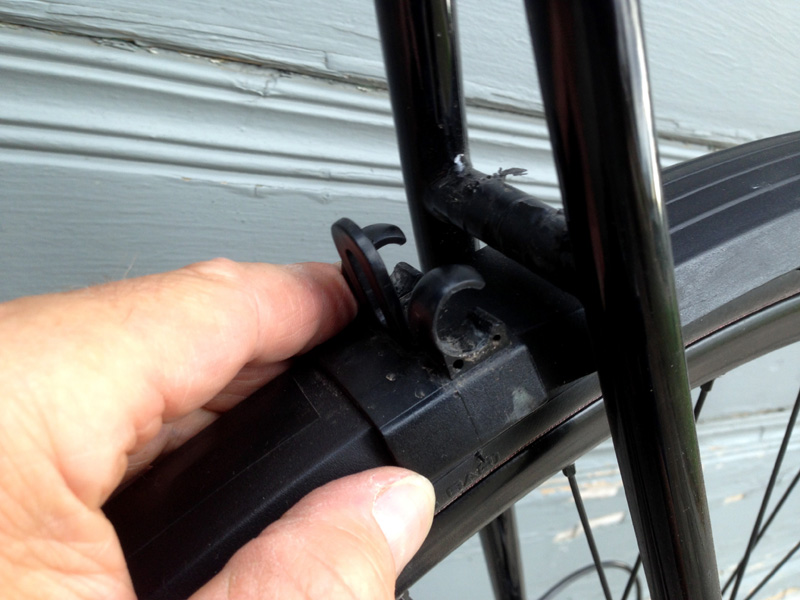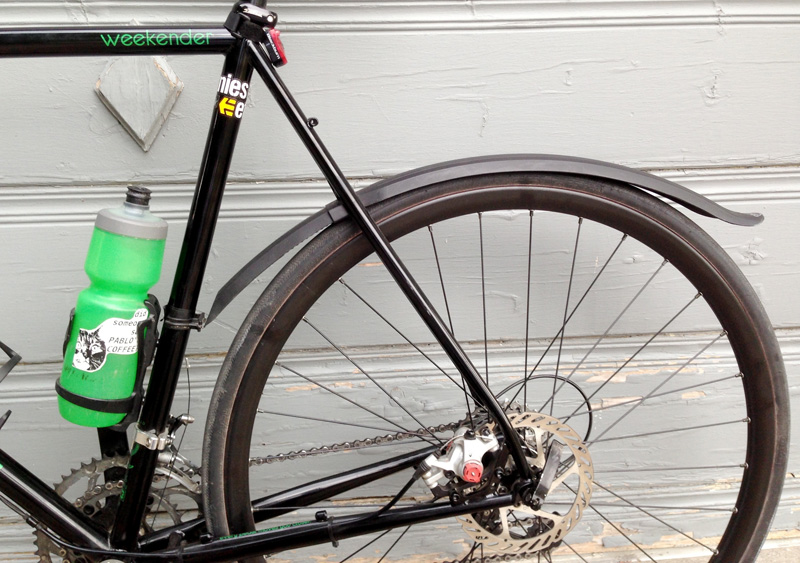 Tool free mounting makes clip on fenders a pretty awesome solution.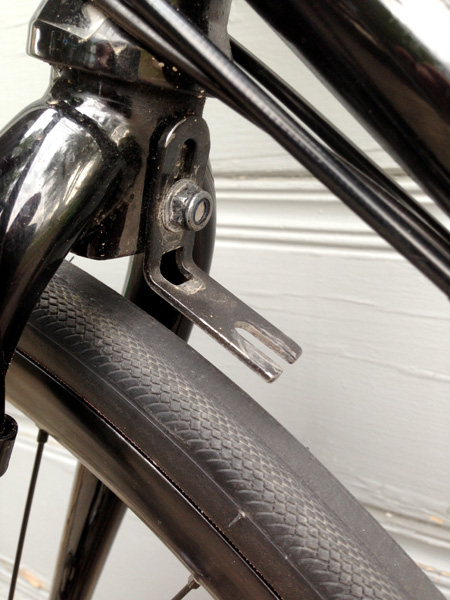 Here's how the front fender attaches.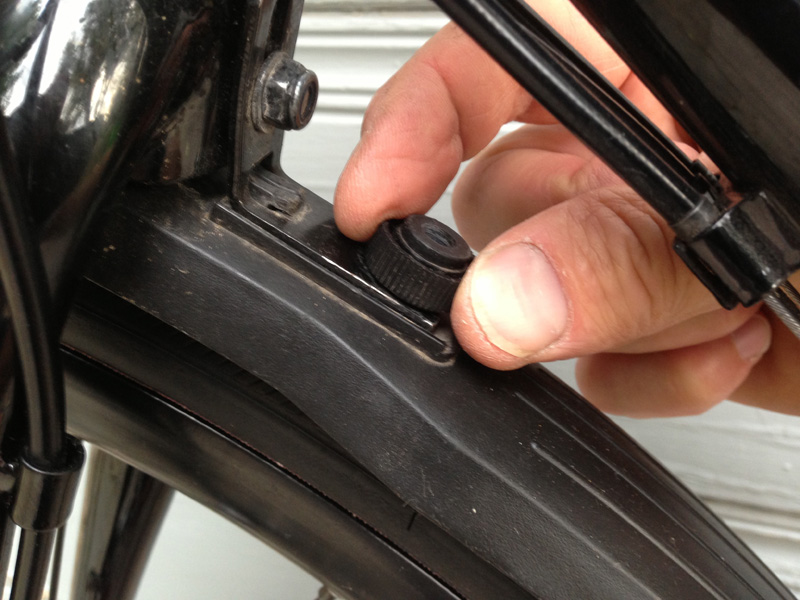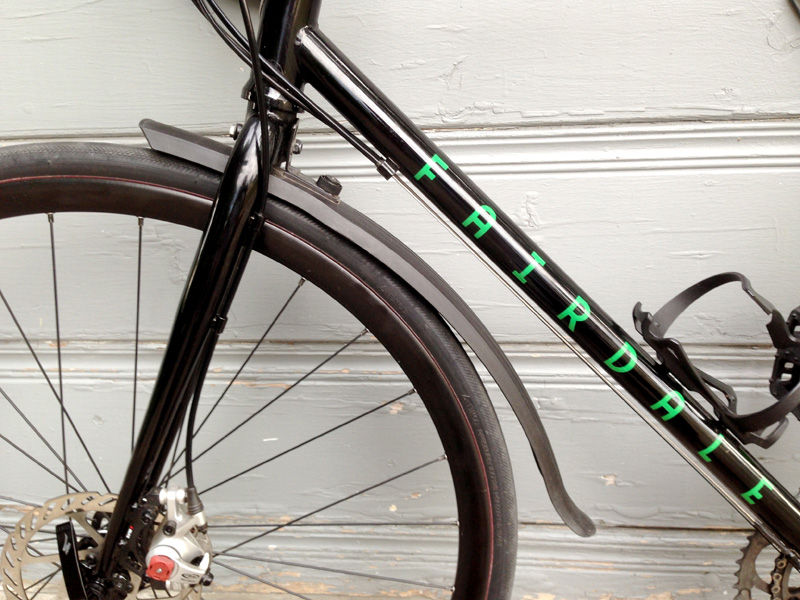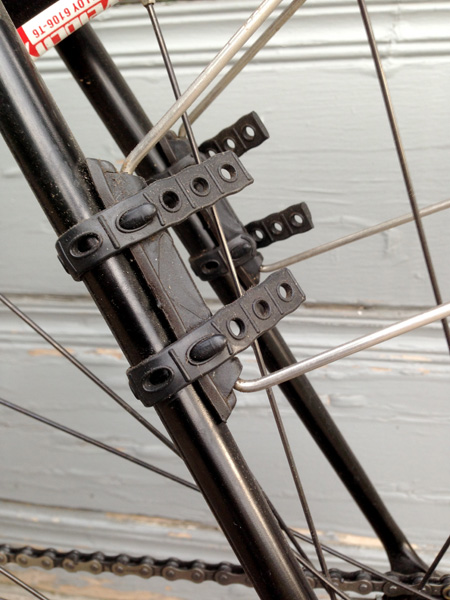 There's also these kind that sort of rubber band on to the frame and fork. Very simple installation.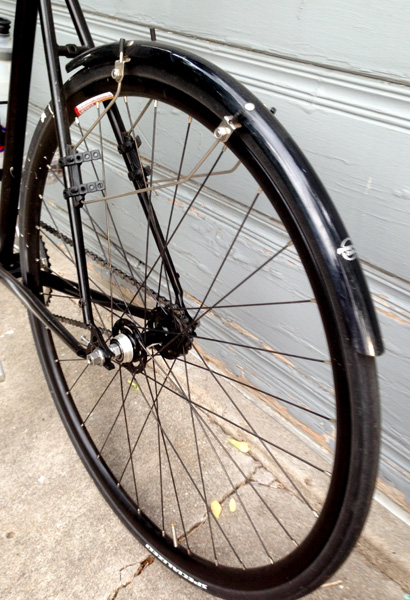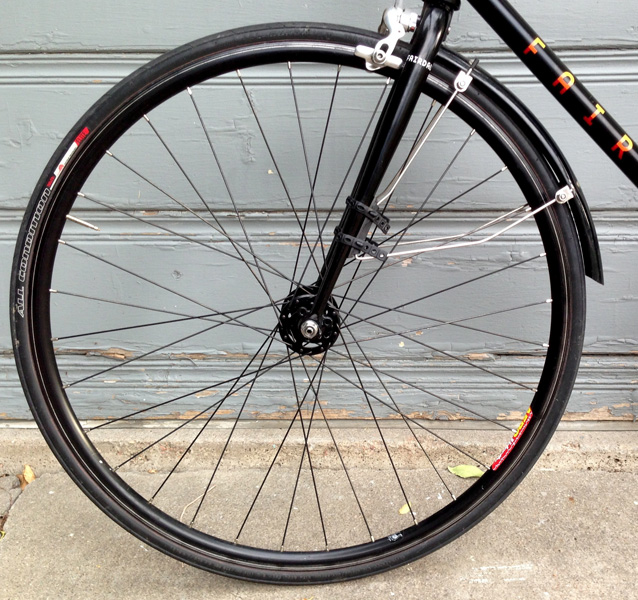 These ones are easy to take on and off but are prone to rattling around a bit.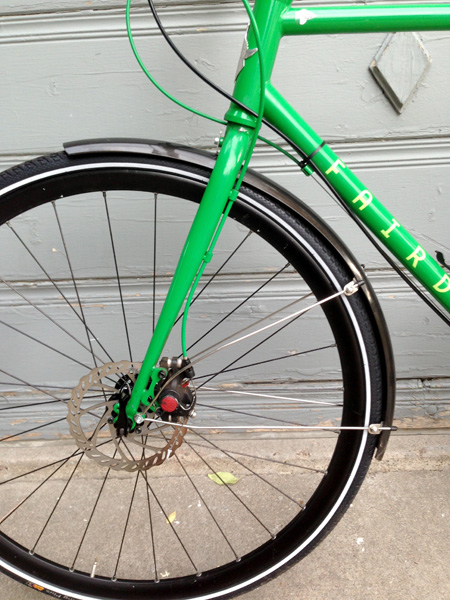 -Full coverage fenders (shown on the green Weekender)
A wet weather climate must, these cover the maximum area of your tire keeping the most weather off you and your bike. Also the most difficult and time consuming to install but well worth if your ride is often a wet one. If you have disc brakes you may need to do some creative mounting/ manipulation to get the fenders dialed in and mounted properly.
-Repurposed DIY Cardboard,Plastic,various trash etc.
You can fashion a temporary fender out of cardboard and packing tape, or plastic bottles cut up and taped together and many other things. These are temporary but can help in a pinch and you`ll feel empowered and autonomous. Expand your mind and get creative or just go buy some nice fenders. -Leif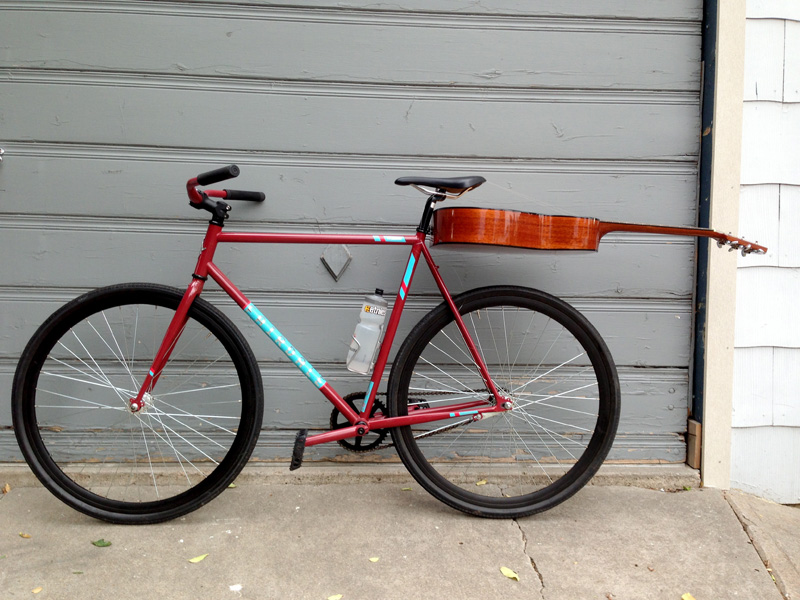 A Fender Fender.