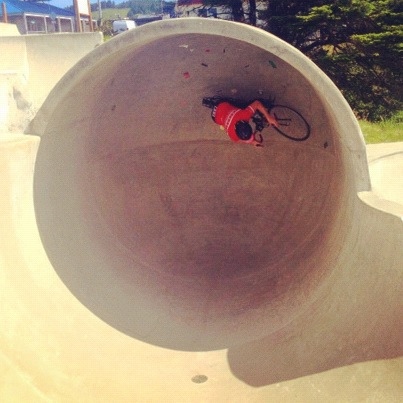 79 miles
We reluctantly left the best Motel 6 ever in Gold Beach and started pedaling through town. We spotted this tiny weird skatepark just down the street and thought it was too good not to ride. Sandy popped his bags off and started carving the bowl. We managed this iPhone snap that came out pretty rad!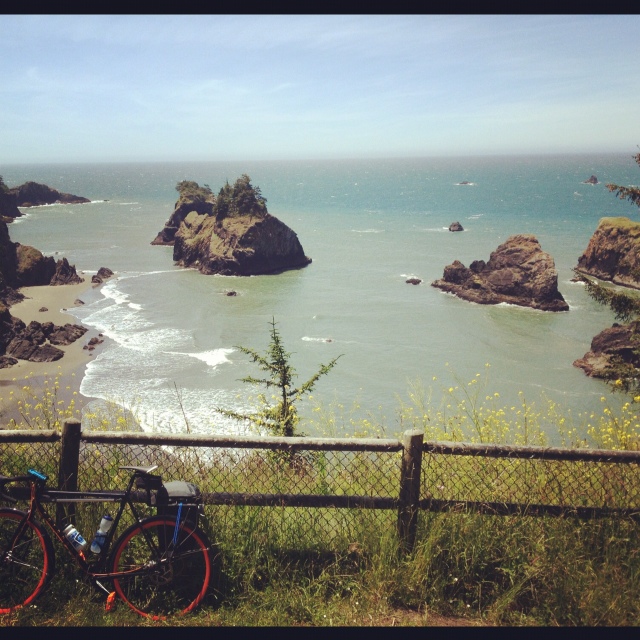 The ride out of Gold Beach was slightly less epic then normal, but then every time it might get boring you'd pop out on another crazy cliff with an amazing view.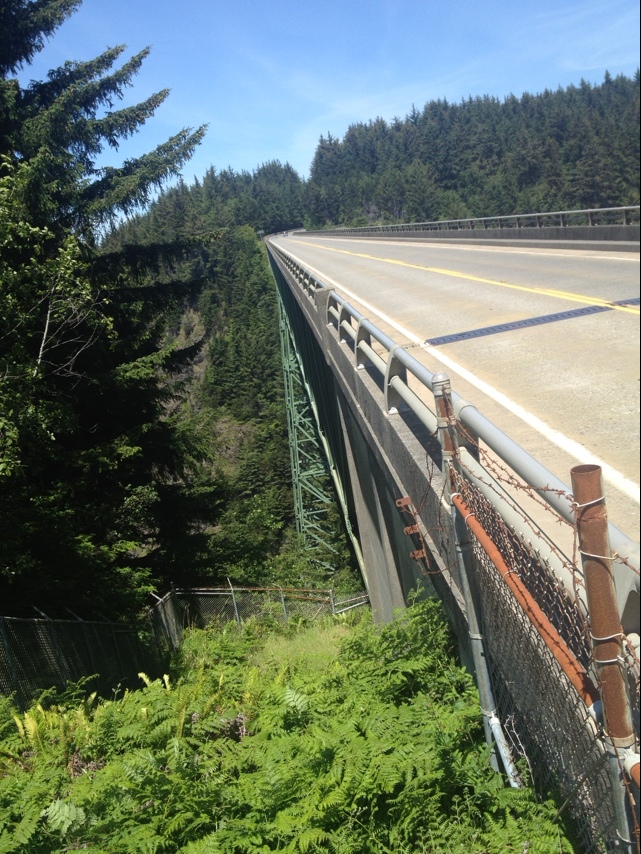 Today I started to feel really good on the bike. Nothing was sore and I seemed to have energy to go as fast as I wanted. We had a lot of rolling hills so there was a lot of climbing. Sure enough Sandy and Nick stopped to take a photo the first time I got ahead and really started trucking. I came to what a road sign said was oregon's tallest bridge with the guys no where in site. I had the idea to take a path down to the ocean and get a photo of them riding across. You would have laughed if you'd seen the scene I was. I ditched my bike in a bush and then started sprinting down some rabbit trail to try to get to an open side view of the bridge. I probably ran a mile through the woods with my dorky road bike helmet and spandex on before realizing the trees were too thick to see the bridge.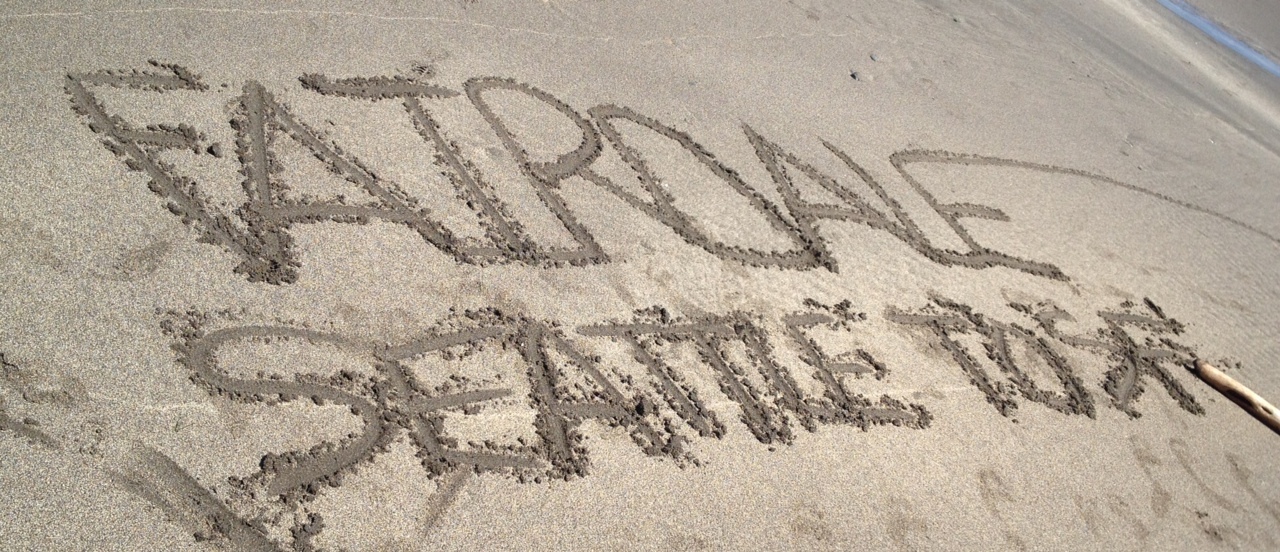 I lost the guys for a while after that… I'm sure they rode past while I was trying to climb out of the woods. We met up again in Brookings to mess around on the beach. Te water was soooooo cold we didn't swim. We did have a good lunch though and Sandy climbed some rocks.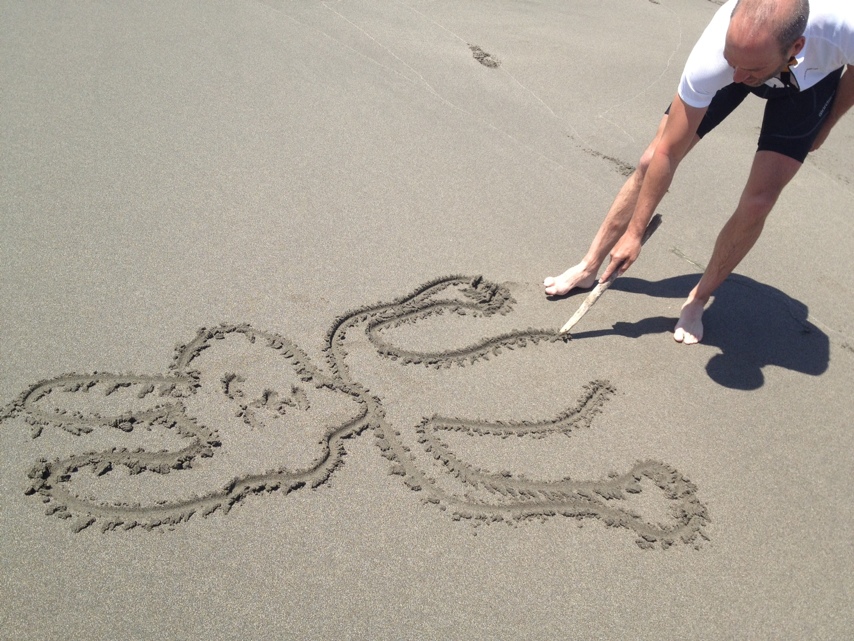 The ride continued to get more rolling and we were mostly going up or down. The amazing tail wind from yesterday continued so our progress was easy and fun. We blew into California and the road immediately took us inland. The tempatures went up and the air got still and wasn't so fresh. In what seemed like no time we blew into Crescent City. We charged up our water bottles and started the climb out of town and into the Redwoods.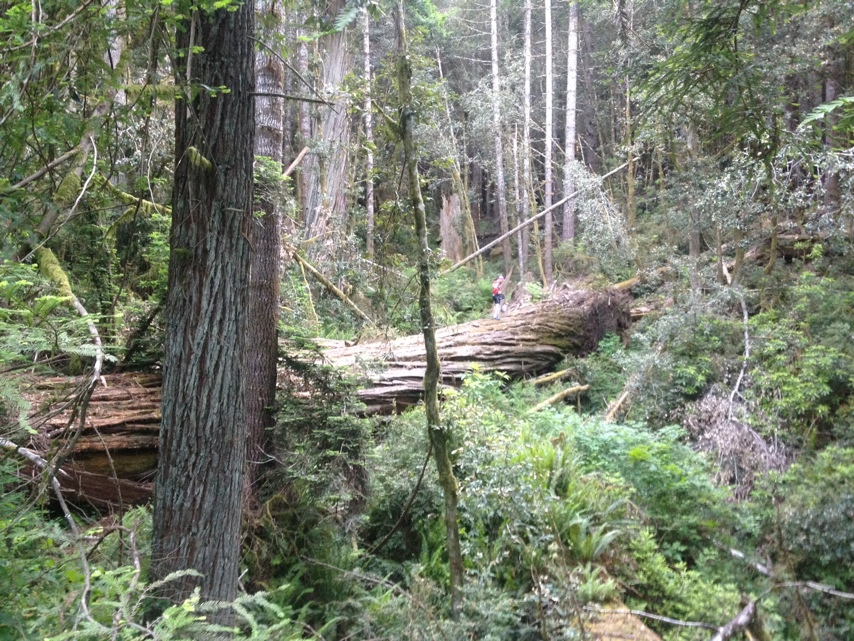 We'd been warned this climb would be brutal but it didn't seem too bad to me today. Certainly wasn't as gnarly as the climb we did the first day out of Portland. My flat pedal stand up and crank BMX style seemed to be working really well and I spent most of the ascent out of the saddle. There was pretty much no shoulder here so that kind of sucked, but the roads were really quiet. We blasted up the mountain and only stopped off so Sandy could climb across a massive fallen Redwood we saw (he's the red spec in the photo above).
The descent was a but bumpy but we were flying well over 50mph at parts. I got a little wobbly after a wind gust hit me unexpectedly but it was still awesome. We ended up back at the coast and caught a few setting sun moments.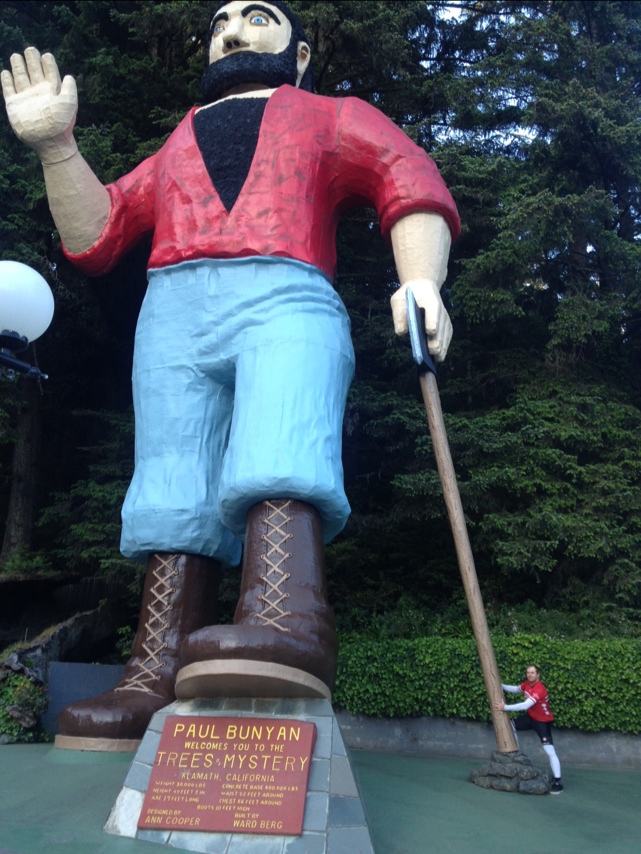 We raced into Klamath feeling like we'd had an easy day. I had booked a hotel online fearing that a hotel on a Friday eve during tourist season might be hard to come by. We showed up and Gary Ellis was there! I got a picture with him. Surprisingly we were the only people at the hotel and the cafe connected to the place was closing. Luckily they agreed to stay open late and make us some food. This seems to be happening every night lately.
Today was some kind of break through for me. My body seems to be adapting to being a road bike rider and I never felt tired. I was even able to joke around and laugh with the guys while riding some. Climbs are getting easier and the almost 80 miles we did today seemed short and quick.
Tomorrow we're going to do some sight seeing around the redwoods and the Trees of Mystery across the street from our hotel. Only 342 miles til San Franciso!