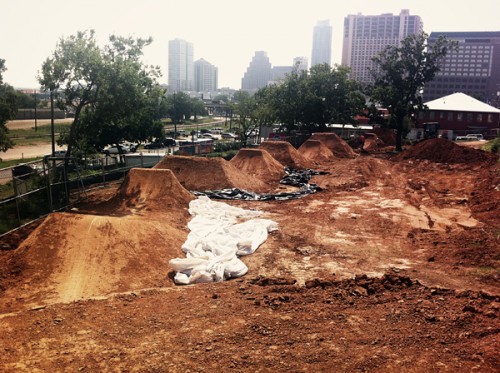 We're getting the contest site ready and finally got an official schedule going.
Texas Toast Jam
Friday is practice for dirt, curved wall ride and rail jam contestants only.
Saturday
11:00AM – 1:30PM Gauntlet of Death
1:30 – 2:30PM Dragon Slayer Practice
2:30 – 3:30PM Dragon Slayer Best Trick
3:30 – 8:00PM Gauntlet of Death reopens
3:30 – 4:30PM  Leap Frog Beard (Bunny Hop) Contest
5:00 – 7:00PM PRO Dirt Qualifying
7:00 – 8:00PM PRO Rail Jam Best Trick
Sunday
11:00AM – 2:00PM Gauntlet of Death
12:00 – 1:30PM Longest Icepick Grind
2:00 – 3:30PM PRO Curved Wall Ride Best Trick
3:30 – 4:30PM Gauntlet of Death reopens
4:30 – 6:00PM PRO Dirt Finals
Fox's Gauntlet of Death
First person to make it through this death defying obstacle course wins a treasure chest of prizes. Everyone who makes it through gets something. Runing all weekend, free to enter with entry and waiver, donations to benefit Mike Tag suggested.
Odyssey's Dragon Slayer Best Trick.
A winner take all best trick contest on the ferocious Odyssey Dragon.
$300 Bounty and prizes, free to enter with entry and waiver.
Oakley, Failure Bikes, Austin Facial Hair Club present the Bearded Leap Frog Contest.
This bunny hop high jump contest is winner take all for highest hop. Free to enter with entry and waiver. Winner gets $100, one of a kind hand made Oakley trophy and Failure Beach Cruiser.
Sunday Bike's Longest Ice Pick Grind Challenge.
Whoever can do the longest Ice Pick Grind on Sunday's 100 foot long rail wins $250 and prizes. Free to enter with entry and waiver.
Empire BMX's Pro Curved Wall Ride Best Trick Contest.
Do the best trick on Empire's step-up curved wall ride and win $500 and prizes. $10 to enter.
Van's Pro Rail Jam.
Whoever does the best trick on Van's handrail wins $700 and prizes. $10 to enter.
Odyssey Presents Pro Dirt.
Pro's compete for a $12500 purse.
1st place wins $5500 (thanks in part to a $2500 bonus for the winner from Fox)
2nd place wins $3000
3rd place wins $2000
4th place wins $1250
5th place wins $750
Spectators $5 per day, or $20 for both saturday and sunday and get a free Texas Toast T-shirt.