I few weeks ago I got an early sample of FSA's new 2 speed Metropolis crankset. Its similar to the TruVativ's HammerSchmidt crankset in that it offers two gears inside the crankset. The Metropolis is designed for commuter use rather then heavy off roading/ downhilling.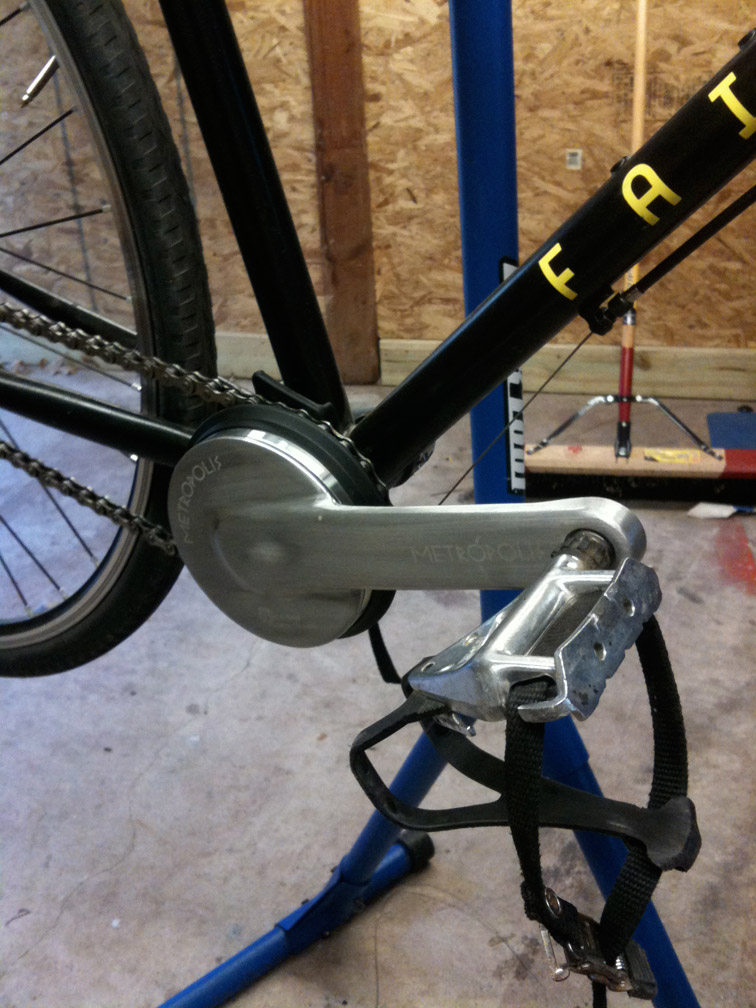 Ok, so first impression it looks pretty spacey with that all one piece crank/ sprocket guard going on. Installing it was surprisingly easy even without the instructions they forgot to include. Basically you just put them on like any normal euro BB crankset. Simple!
Unlike the HammerSchmidt thing they don't require any special mounts on the frame or anything unusual.
The only requirement is that you need some kind of cable stop for the shifting cable. Most frames would having something like this for a derailuer cable. I just used a gyro tab and tapped it into the downtube. Well, when I say "tapped  it" I mean I drilled a little hole and forced the little bolt to thread into the hole. Seems to be working and it doesn't take very much pressure from shifting at all.
Riding with the cranks is pretty amazing. I don't really notice any drag from the system and the shifting is immediate and very solid feeling. A lot of the internally geared hubs I've ridden in the past feel like if you did your best BMX gate start-super-pedal you might break them, this crank feels rock solid in either gear.You can shift while stopped, back pedaling or under full throttle.
FSA says it is supposed to mimic shifting from a 42t to a 28t sprocket in the front. Since my bike is set up a single speed that means shifting from high to low gear is a pretty big jump. Its like shifting to the granny gear on a MTB. I really think this is pretty awesome though, it means I ride my bike around like a normal single speed, and if I come upon a small hill I just stand up and climb like normal. If there is steep hill though I can downshift and cruise right up now matter how much weight I'm carrying in my racks that day.
Of course it would make the most sense to combine this crankset with an internally geared rear hub. Then you would have tons of gears to choose from with out a derailluer anywhere.
Cost I guess is the big issue, and with everything cool and tech its likely to cost a lot. Its not as expensive as the Hammerschmidt thing, but seems like this will be around $300 or so. Kind of a lot for the sake of convenience  and simplicity I guess. I'm for sure going to keep this in my "maybe pile" though. It would be a cool edition to a Fairdale commuter. Get a couple gears but still allow back wheel to pop off like a simple single speed. Maybe a special edition or something down the road.