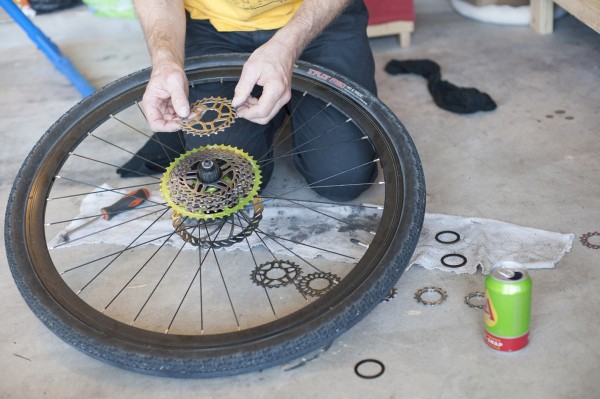 The 2016 Weekender Drop comes stock with a 11- 40t rear cassette. With 10 different gears ranging from a-bombing-down-a-hill-high-speed 11t to the granny-gear-hill-climbing 40t you can ride anything that comes your way. Older Weekenders have an 11-36t rear cassette. If you want a bigger range of gears you can follow the traditional path and add a front derailleur and another sprocket up front. Another option is to take advantage of all the 1x upgrades available in the mountain bike world. Leif Valin upgraded Sandy Carson's Weekender with a OneUp 42t rear cassette kit and a Wolf Tooth narrow/wide front sprocket.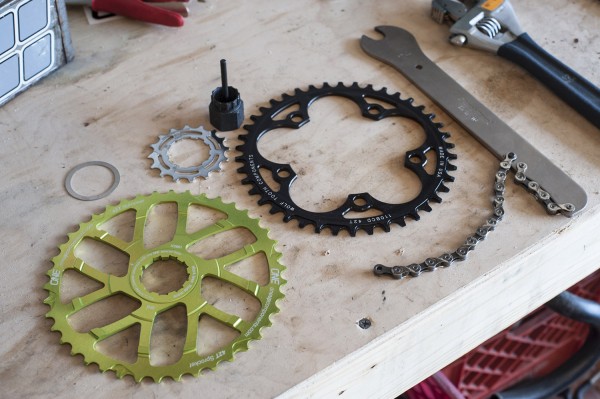 The OneUP kit comes with a 42t cog and a 16t cog. The big green 42t is what is really going to expand the bike's gear range but the 16t is important for smoothing out the steps in the shifting. Sandy also picked up a Wolf Tooth front sprocket. More on that a little further down.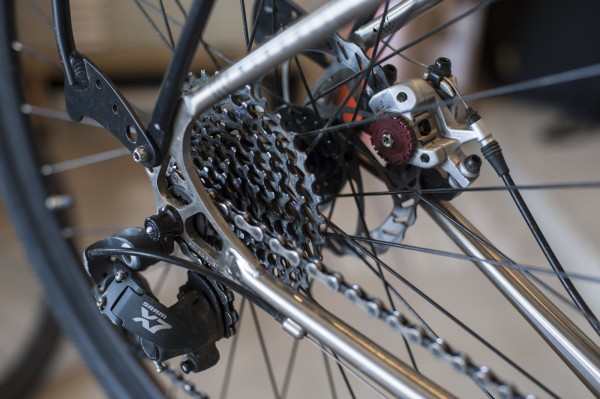 Sandy's stock 11-36t cassette.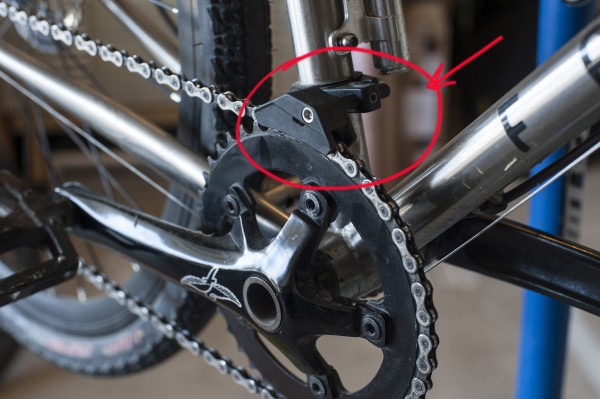 This plastic chain keeper has been standard on Weekenders for years. Since the bikes don't have a front derailleur something is needed to keep the chain from popping off when the rear derailleur starts bouncing around. Truthfully it's always annoyed me (kind of ugly) but narrow/wide chainrings were always prohibitively expensive for us to put on the complete bikes. Using a narrow/wide chain ring you can delete this chain guide and not have to worry about your chain falling off. It's one of my favorite upgrades to make on a Weekender bike.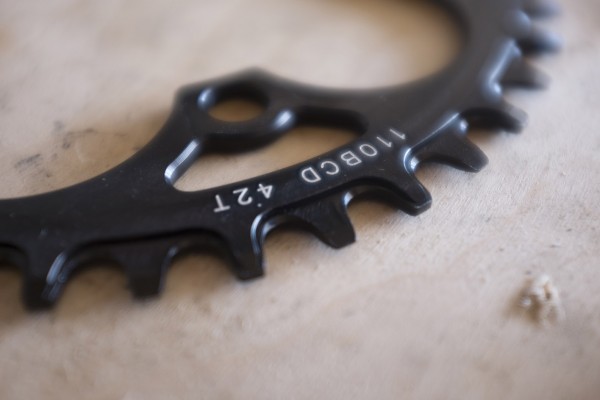 This will be the new front chainwheel. See how the teeth alternate between narrow and wide? That fits into the chain's narrow and then wide spacing (look at a top view of a chain). It is very effective at keeping your chain locked on even when riding over rough terrain that might otherwise bounce a chain tensioned by a rear derailleur off the sprocket.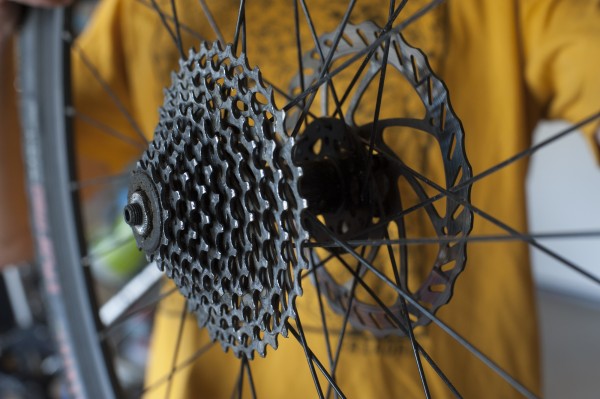 Our mechanic Leif is surely grimacing at how filthy Sandy's cassette is.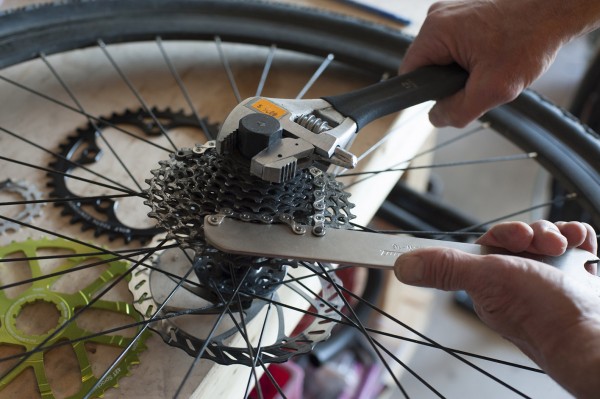 To get started chain whip that old cassette off with a cassette tool and a big wrench.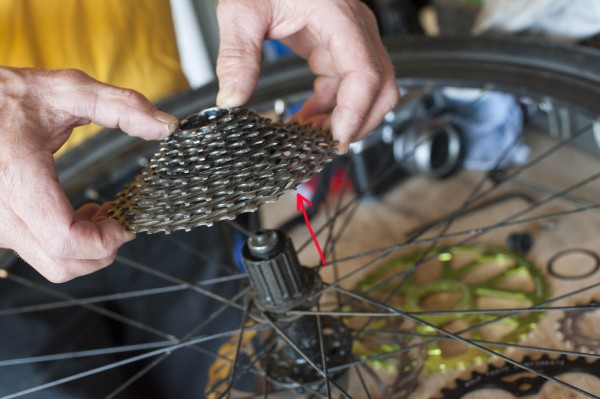 Once the lock ring is removed the cassette will lift off the hub.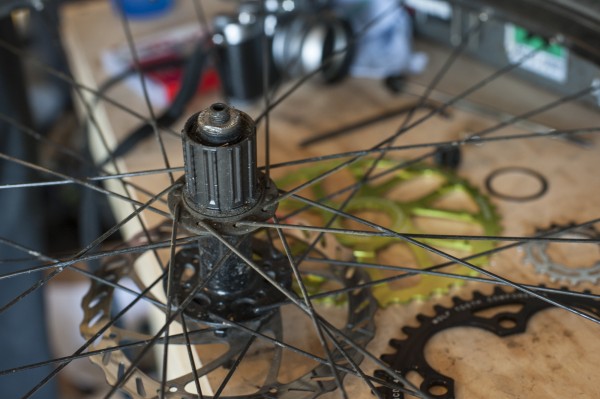 The Weekender Drop uses a normal 10 speed driver that is compatible with both Shimano and SRAM 10 speed cassettes. There are similar options out there to upgrade the Weekender Archer's 9 speed cassette.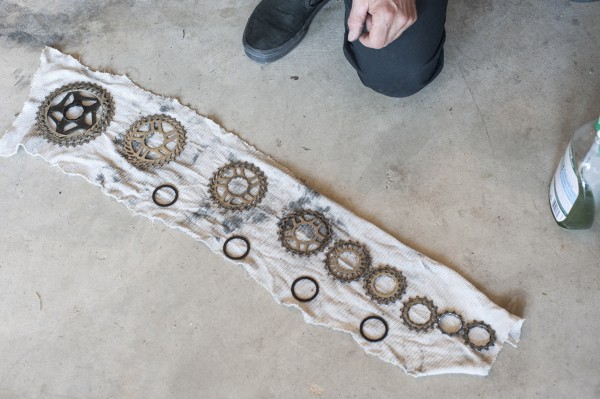 Here's the cassette taken apart and ready for cleaning.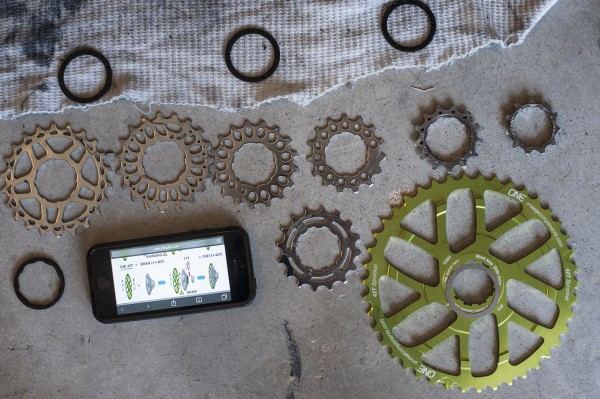 All shined up like new with OneUp's instructions pulled up on the phone for reference.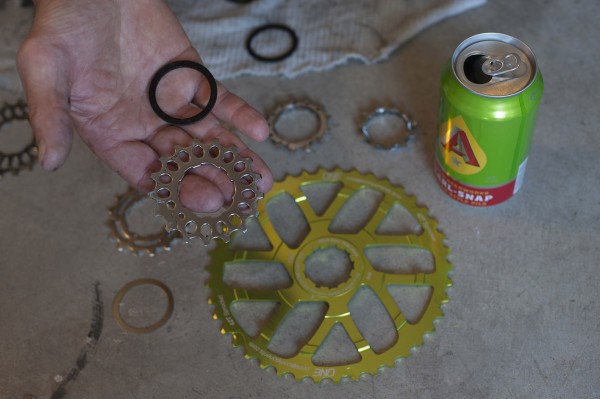 This 17t cog is going to be deleted and replaced with OneUp's 16t. Leif cleaned it perfectly anyway. This is meant to provide smoother shifting progression.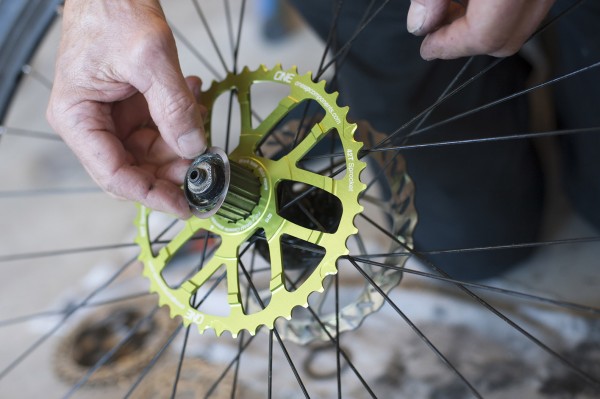 For the most part the cogs will only fit on one way to the driver. The big 42t goes on first and then…
…keep adding the next biggest cog to build the cassette back up. Pay close attention to match up the shifting ramps on the new 16t cog.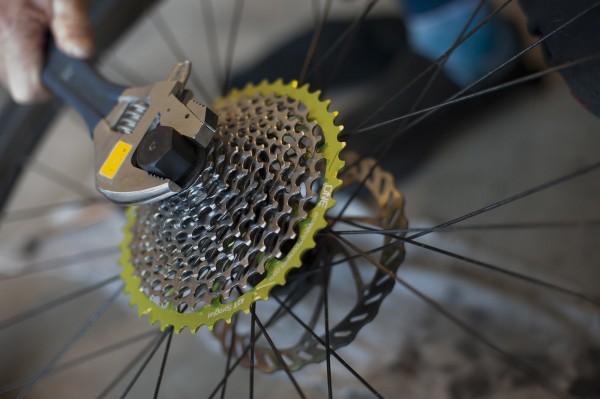 Toque spec that lock ring back on.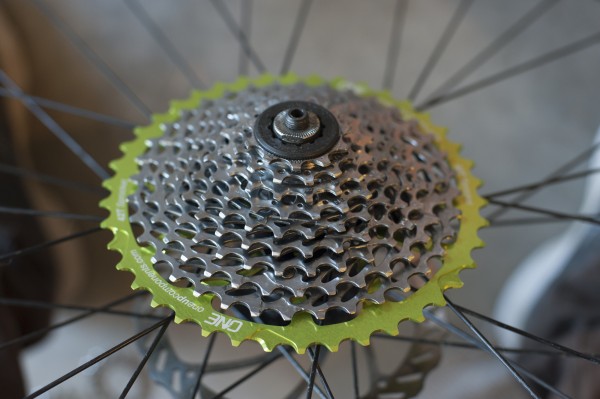 Finished set up; 11-42t 10 speed cassette.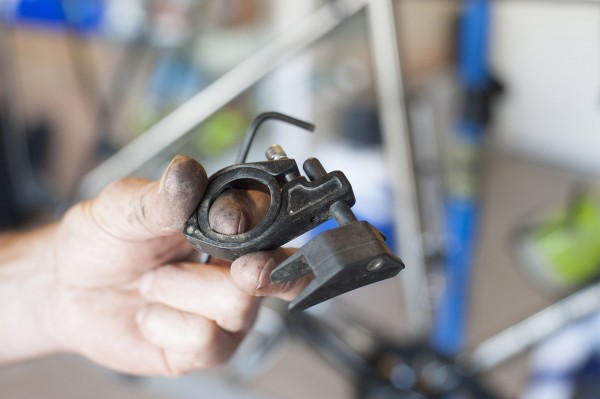 Next up on Sandy's upgrade is to delete the chain keeper. This is not at all essential to the cassette upgrade but it's cool!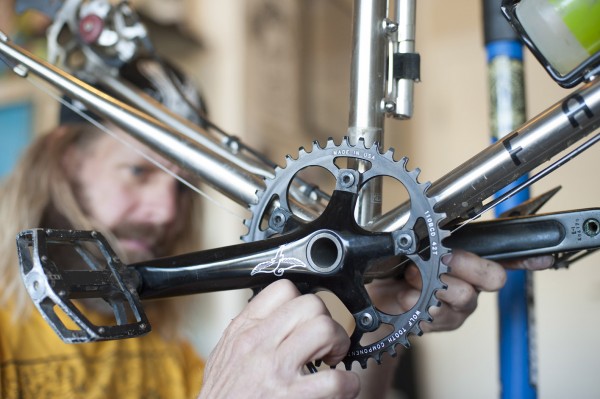 Weekenders have 110bcd chainrings. Wolf Tooth makes a 42t 110 bcd chainring that Leif installed here. Blue Loc-tite those chain ring bolt threads.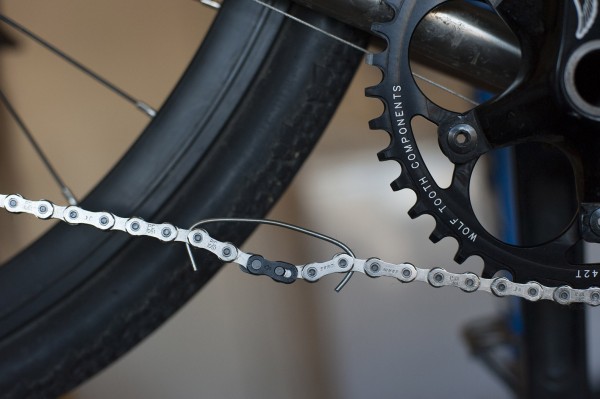 Handy little chain holder made from an old spoke. This makes it easy to size a new chain (another nice thing to pop on your bike during this upgrade but not essential).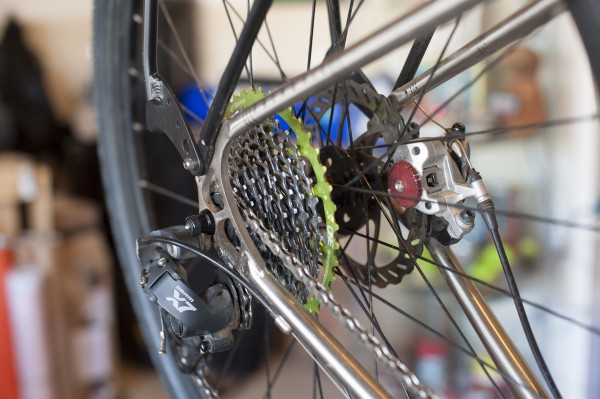 And here it is all back together. Since the Weekender Drop comes with a long rear derailleur this shifts perfectly.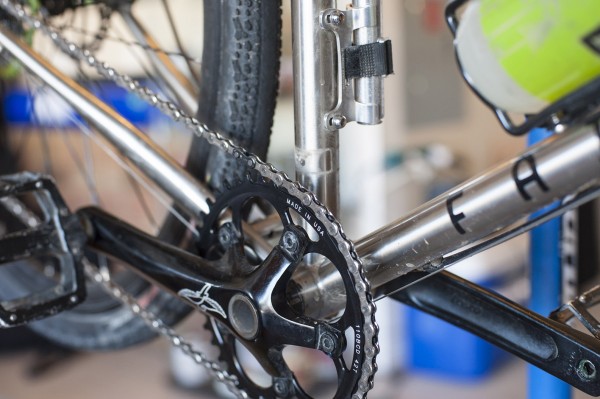 And the front chain ring with chain keeper deleted.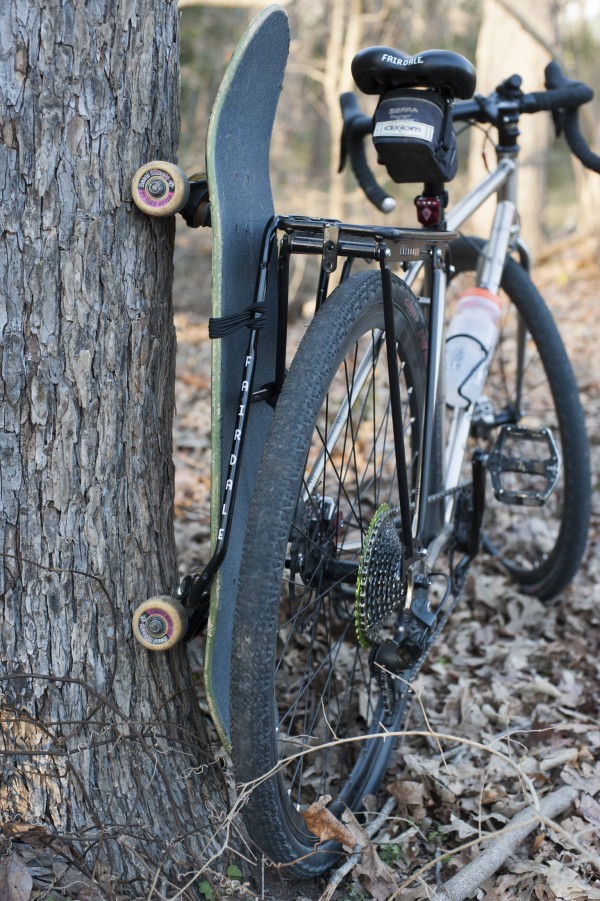 Go ride now!!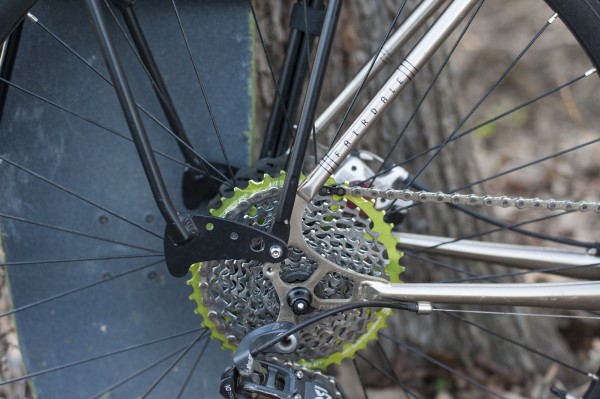 Video from OneUp: