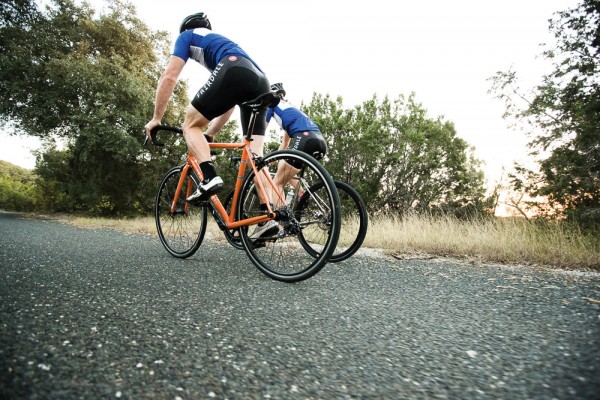 The Goodship is a road bike. It's not a bike that is meant to be adaptable to 100 different uses. It won't fit knobby tires, nor does it have fender mounts. It is a purpose-built bike for riding on the road, and we might add, doing that quite quickly – if you are so inclined.
One of the Goodship's standout features is our Drawnright Tubeset. The tubing starts out as an ultra high-grade, seamless, Japanese 4130 chromoly. We custom form and precisely butt each tube of the bike so it is specific to each size. That means that the internal thickness of the tubing changes depending on where it is on the bike. For example, tubing is thicker near the hand TIG welded joints to increase strength, while it can be thinner in the middle of the tubing to save weight. The tubing is also heat-treated to exacting specifications to further increase strength. The result is a frame that has all the benefits of good ol' reliable steel. It's very strong, dependable and only weighs in at 3.8 lbs (for 56 size). Of course you can find carbon frames that are lighter, but the Goodship is set to follow a different course. Instead of chasing grams we concentrated on ride quality and the practicality of a high-quality modern steel frame. Steel is resilient, proven, strong and much more versatile and affordable to work with too. It makes an outstanding platform on which to build a bike that you will love to ride every day.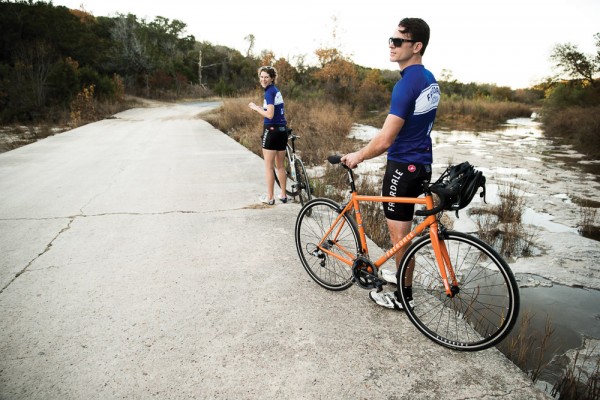 The Goodship also comes stock with an ENVE Road 2.0 carbon fork, which contributes to the bike's immediately noticeable and outstanding overall "ride feel". ENVE's quality is something we believe in and it's essential to have a trustworthy name on your bike's forks. The Goodship comes with our own sealed bearing Fairdale wheelset that is traditional and tough without being overly heavy. This is a classic cross-laced wheelset that you will be able to put some "real" mileage on. Continental Ultra Sport tires in 25mm width handle the road work (maximum tire size on the Goodship is 28mm for most brands).
SRAM Force 22 covers the braking, shifting, and cranking. You'll notice that we didn't mess around with using some off-brand crank that might interfere with Force's excellent shifting. We stuck with SRAM's specifications and used the whole groupset. An FSA Gossamer stem and seat post, FSA Vero bars and a sealed, integrated FSA headset round out the component spec. The Goodship's initial introductory pricing will be about $2999.99 for the complete bike or $999.99 for the frame and fork (FSA headset included).
The first round of bikes are available NOW in 54, 56, 58, and 60 sizes.