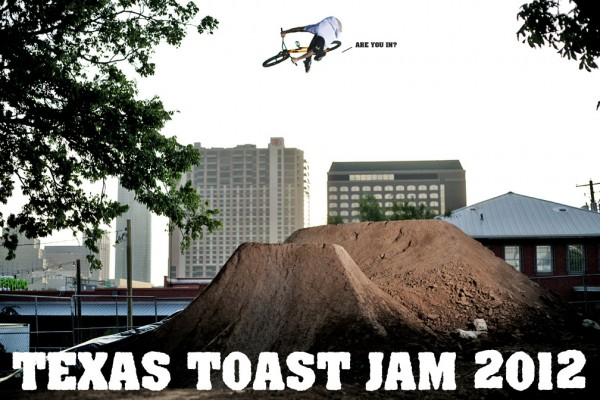 Tomorrow I am touring Austin trying to nail down next year's venue for Texas Toast Jam. We're thinking the event will be in spring sometime but no date is yet confirmed. It is happening though!
The big question is what will we do this year? Like, for real, what the hell are we going to build this year? I have no clue. You guys got any ideas? The good thing is that with Ryan Corrigan heading up building stuff we know anything is possible.
Check out some of the amazing coverage from last year's event all gathered together:
http://www.odysseybmx.com/dailyword/tag/texas-toast-jam/
And what people were saying about Toast jam:
"Having a blast… don't want the weekend to end."
Scotty Cranmer
X-games gold medalist/ Champion of FOX TX TOAST Gauntlet of Death
"Best contest ever"
Gary Young
World Champion Street Rider/ 1st place pro dirt TX TOAST
"I have seen the layout for the Texas Toast Jam, and it is a GAME-CHANGER. GOODBYE INNOCENCE, GOODBYE HOPE. THE TEXAS TOAST JAM COURSE WILL FILL YOUR HEAD WITH DEMONS."
Empire BMX
"I know the comp scene might be a little stale as of late, but that's sure to change in the coming months, thanks in part to the Odyssey Texas Toast Jam."
ESPN
"Texas Toast has come and gone, and I really can't think of a single thing that could have made the weekend better. Any expectations about the Odyssey BMX sponsored and Taj Mihelich organized event were certainly blown out of the water and there is no doubt in my mind that this was one of the best BMX events I've ever been to in my life."
DIG BMX MAGAZINE
PHOTO ABOVE: Chase Hawk in one of my favorite photos from last years jam by Devon Hutchins.