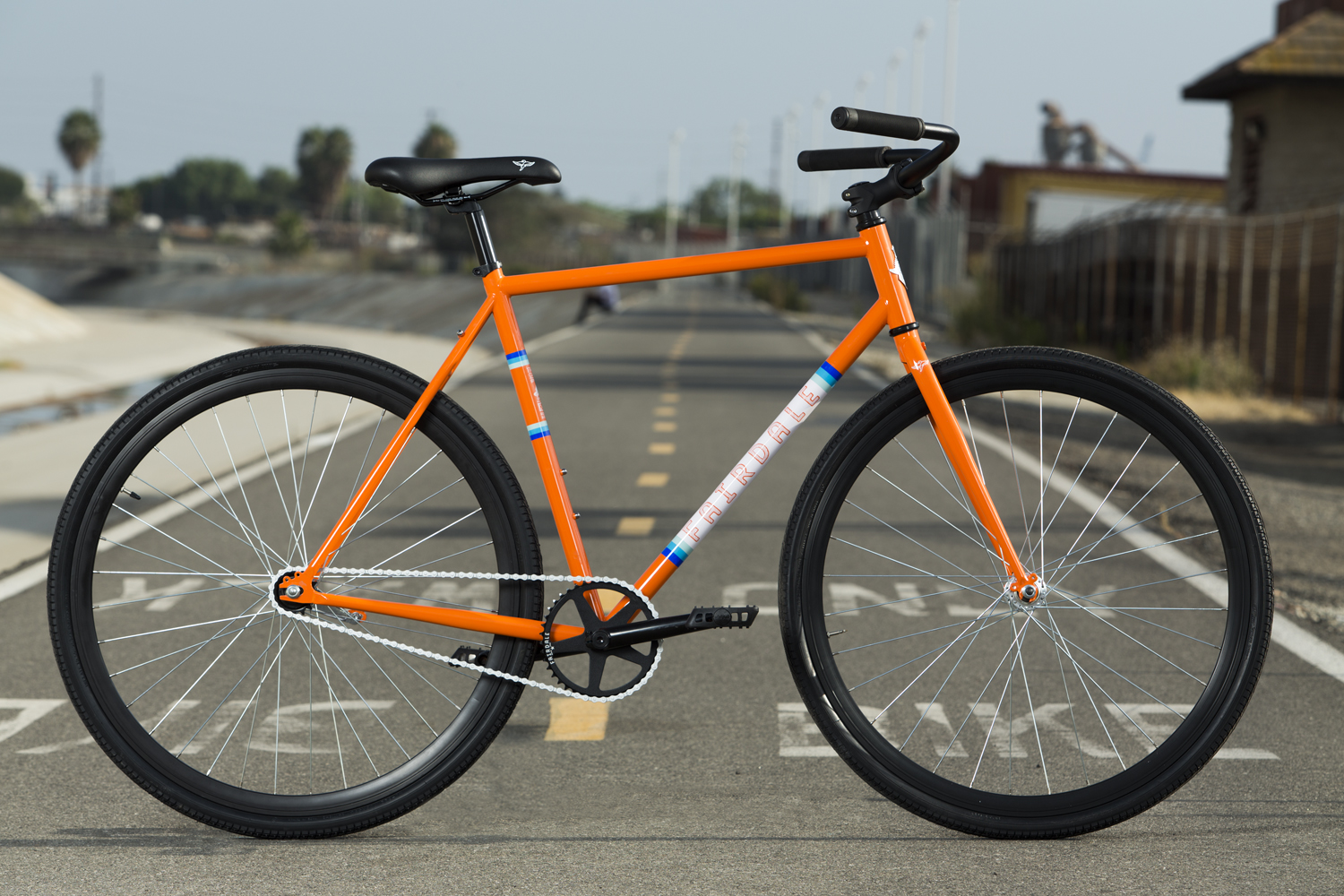 2015 Coaster $459.99 | Orange or Black
The Coaster is now available in two configurations. The Coaster with a Shimano coaster brake, or the UK Coaster with a freewheel and dual pivot handbrakes. This bike is as simple as it gets, with minimal maintenance and an all-around comfortable riding position.
If you want a bike to "ride around" this is the bike for you. The Coaster is equipped with rack and fender mounts as always.
COASTER AND COASTER UK
FRAME: Hi-Ten with Cr-Mo Seat Tube, Rack and Fender Mounts
FORK: Hi-Ten with Rack and Fender Mounts
HANDLEBAR: Fairdale Archer 2, Aluminum
STEM: 70mm Forged Aluminum
HEADSET: 1-1/8"
FRONT BRAKE: Alloy, Dual Pivot, 57-75mm
FRONT BRAKE LEVER: Two-finger Alloy
GRIPS: Odyssey Cufflink
SEAT: Fairdale Logo Seat
SEAT POST: Kalloy, 27.2mm
SEAT CLAMP: Fairdale, 30mm
CRANKS: Chromoly 3-piece (S & M=170mm, L & XL=175mm)
SPROCKET: Fairdale, 42T
BB: Mid, 19mm, Press-fit, Sealed
PEDALS: Odyssey Twisted PC 9/16
FRONT RIM: 700c, 32-Hole, 30mm cross-section
FRONT HUB: 32-Hole 3/8" Axle
TIRES: CST 700c x 38mm
CHAIN: KMC, 1/8" Rust Buster

COASTER
REAR RIM: 700c, 36-Hole, 30mm cross-section
REAR HUB: Shimano Coaster Brake, 36-Hole
COG: 16T

COASTER UK
REAR BRAKE: Alloy, Dual Pivot, 57-75mm
REAR BRAKE LEVER: Two-finger Alloy
REAR RIM: 700c, 32-Hole, 30mm cross-section
REAR HUB: 32-Hole 3/8" Axle
FREEWHEEL: 16T