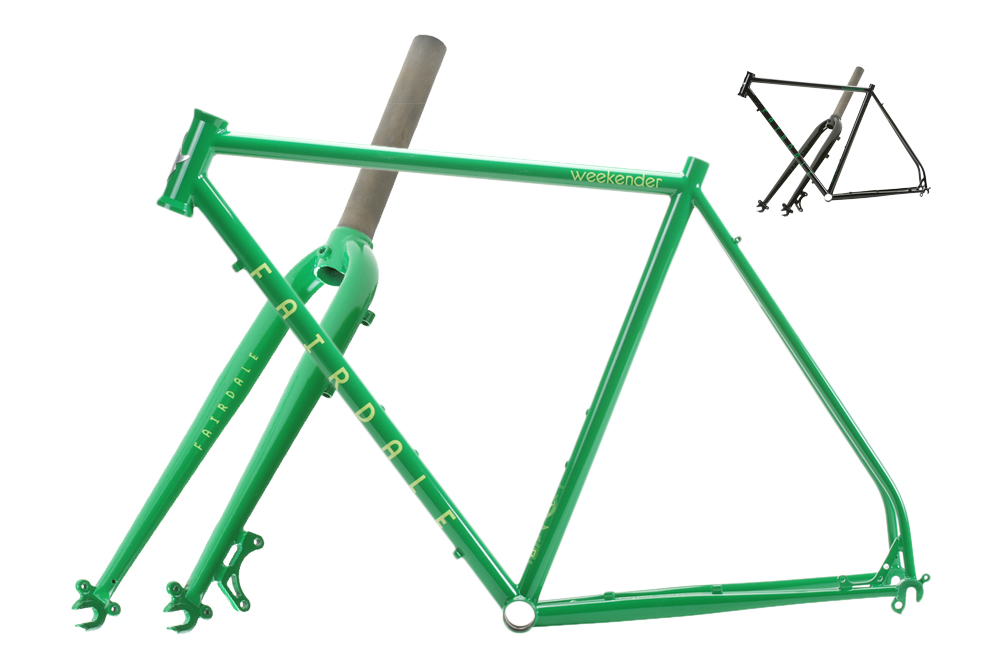 The Weekender OG frame and fork can now be purchased separately.
The Weekender Frame is made from double butted chromoly tubing. It uses an integrated headtube, has disc brake mounts and mounts for a rear rack or fender. It's built with mountain bike rear hub spacing to make finding a disc hub easier for you. Simple and sturdy you can build this bike into something awesome. Available in Small, Medium or Large.
The Weekender Fork is designed to be paired with the Weekender frame. It comes with a disc brake mount and rack/ fender mounting eyelets. The steer tube is made from one machined piece of chromoly and has a headset race machined into it (no need to press on a race). The dropouts are put on facing forward to prevent the disc brakes from trying to pull the wheel out of place.
SMALL
Seat tube: 50cm (measured from center of BB to top of top tube along seattube)
Top tube(actual): 53cm
Headtube height: 100mm (with integrated headset Campy Spec 45º/45º)
Headtube angle: 72.5º
Seat Tube angle: 73º
Chain stay: 440mm
Seat post: FIts 27.2 mm sized posts
Seat clamp: Use 30mm
BB: 68mm wide Euro BB
BB Drop: 68mm
Dropout spacing: 135mm

MEDIUM
Seat tube: 54cm (measured from center of BB to top of top tube along seattube)
Top tube(actual): 56cm
Headtube height: 120mm (with integrated headset Campy Spec 45º/45º)
Headtube angle: 72.5º
Seat Tube angle: 73º
Chain stay: 440mm
Seat post: FIts 27.2 mm sized posts
Seat clamp: Use 30mm
BB: 68mm wide Euro BB
BB Drop: 68mm
Dropout spacing: 135mm

LARGE
Seat tube: 56.5cm (measured from center of BB to top of top tube along seattube)
Top tube(actual): 57.5cm
Headtube height: 145mm (with integrated headset Campy Spec 45º/45º)
Headtube angle: 73º
Seat Tube angle: 73º
Chain stay: 440mm
Seat post: FIts 27.2 mm sized posts
Seat clamp: Use 30mm
BB: 68mm wide Euro BB
BB Drop: 68mm
Dropout spacing: 135mm

EXTRA LARGE
Seat tube: 58.5cm (measured from center of BB to top of top tube along seattube)
Top tube(actual): 60cm
Headtube height: 170mm (with integrated headset Campy Spec 45º/45º)
Headtube angle: 73º
Seat Tube angle: 73º
Chain stay: 440mm
Seat post: FIts 27.2 mm sized posts
Seat clamp: Use 30mm
BB: 68mm wide Euro BB
BB Drop: 68mm
Dropout spacing: 135mm

BuyUS MSRP: $399.99 (Frame) / $79.99 (Fork)